Disaster Preparedness Trainings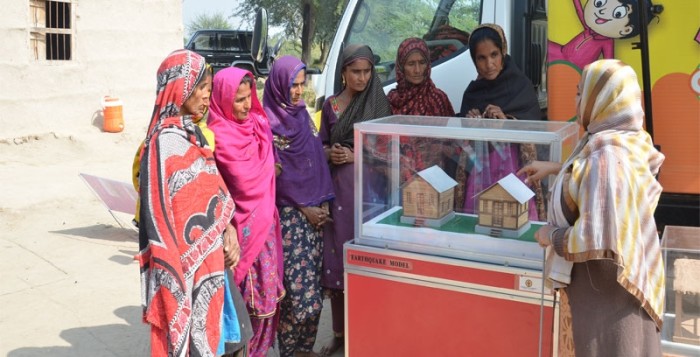 In a recent training in Phul Jakro Village, Thatta District, Sindh Province, Haseena shared her experiences when the first flood warnings were given. She relates that her father who was disabled was carried to the river bank on his charpoy (local word for bed) during the floods in 2011. It was the safest place and all community members collected there. She also related that when early warnings were issued everyone was busy in evacuating and saving their own lives and those of their own families.
Haseena and many affectees like her have recently been trained in making use of available resources to save themselves and others. Moreover, the trainings encourage community members to share information with others about safety tips and risk reduction when disasters strike.
In January, CWS-P/A's mobile knowledge resource center (MKRC) held one-day trainings on disaster risk reduction (DRR) with 79 community members ( 13 men and 66 women) and other community organizations in the union council of Bijora. Community members were trained about the functions of their village organizations to lead various activities required by emergency response teams. They also prepared village disaster preparedness plans using a historical profile of the village, a village hazard map, and a seasonal calendar.
In the coming weeks, trainers with the projects will train as many as 250 participants including members of community organizations and students in the union councils of Samaro, Pithoro, and Araro Burghari.
Since 2012, the mobile vehicle has travelled through various districts in Sindh Province to help communities increase knowledge about DRR and to minimize the impact from frequently occurring disasters.