Developing Researchers to Strengthen Advocacy Initiatives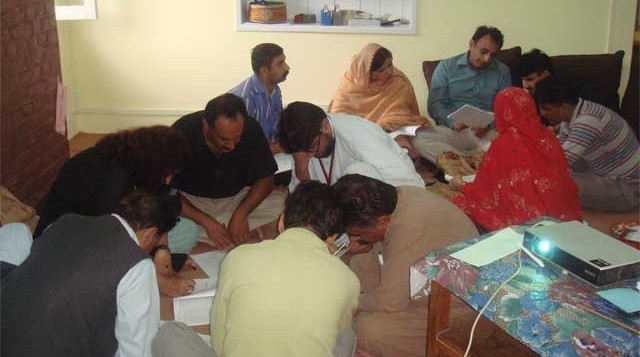 Church World Service-Pakistan/Afghanistan identified the need for an enhanced capacity within civil society organizations for designing and carrying out small research initiatives in Pakistan. Due to a lack of internal research capacity, CSOs often rely upon international rather than local experience in order to develop an understanding of important social, economic, and political issues. Pakistan's higher education institutes offer limited research, but it is often not aligned with CSOs' interests. Firsthand research offers several benefits to CSOs such as being a means of identifying important issues and measuring the impact of specific actions or policies; however, the most valuable benefit is the ability to support advocacy initiatives.
Quality research that is relevant to the local context is ultimately an essential part of successful advocacy. Without unbiased, sound evidence, CSOs face difficultly in developing and achieving strong advocacy initiatives.
In Pakistan, advocacy by civil society is increasing and addresses a variety of subjects such as human rights, minority rights, and gender equality. Whatever the key issue is, advocates need to be realistic and have evidence to support their initiatives if they expect to effect change. For this reason, CWS-P/A designed a nineteen week course to comprehensively introduce the basics of research and build the capacity of civil society representatives to develop and undertake small, independent research.
Action Research Course began in August. For six days, participants learned the basics and prepared to begin independent research. During the remaining eighteen weeks, participants will apply what they learned through a practical exercise. They will meet two more times for in-house training and will receive on-line support from the facilitators throughout the independent research period. In order to provide participants an effective learning environment, they were divided into two sessions each with its own lead facilitator. To bring a variety of expertise, each session had a total of six facilitators, four of which led portions of both participant sessions. By the end of the course, participants should develop confidence and acquire practical skills to design and implement research initiatives within their organizations. Their research will ideally support their advocacy initiatives, thus, strengthening civil society voices with respect to important issues in Pakistan so that they can advocate change in mindsets and policies at local and national levels.