Developing Capacity on Basics of Proposal Writing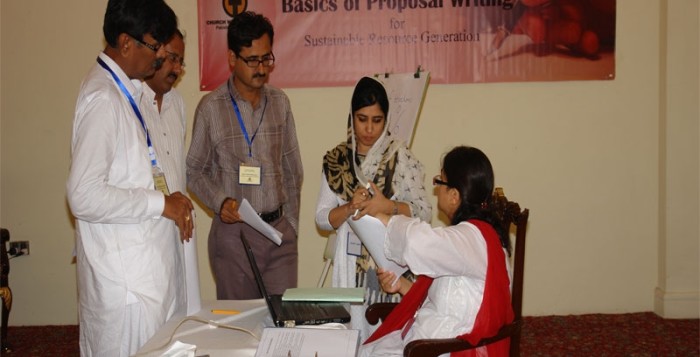 A two-day workshop on the basics of proposal writing was organized by CWS-P/A in Hyderabad. Twenty-two participants from diverse professional backgrounds attended the workshop, which was a good refresher for those who are currently engaged in proposal writing and a kick start for new entrants who are interested in starting writing proposals for their organizations.
The workshop facilitator, Javeria Hashmi, a development professional with twelve years of experience, gave a step by step review of all the components of writing a proposal starting from writing a concept note to special focus on the development of the logical framework analysis (LFA). Participants learned through an interactive approach how to hit upon the needed resources and explored factors catering to a winning proposal by learning effective proposal writing techniques. The training gave an in-depth study of the analysis stage, including the stakeholder, problem, objective, and alternative analysis and helped participants identify and construct objective verifiable indicators (OVIs) through a number of group and individual activities. The training also included alternative models such as result based management (RBM) for developing the proposal.
"I appreciate CWS-P/A's efforts for bridging the gaps in our skill sets and catering to the ever evolving needs of the development sector through organizing trainings on precise topics," said Habib ur Rehman, a participant. Chief Guest, Syed Qurban Ali Shah, Executive Director, Sindh Agricultural and Forestry Workers Coordinating Organization (SAFWCO), highlighted the importance of writing a good proposal for sustainable growth of the organization. He praised the content covered during the workshop and expressed hope that this training would be beneficial to the organizations in widening their donor base.