Destruction, Homelessness, and Lost Hope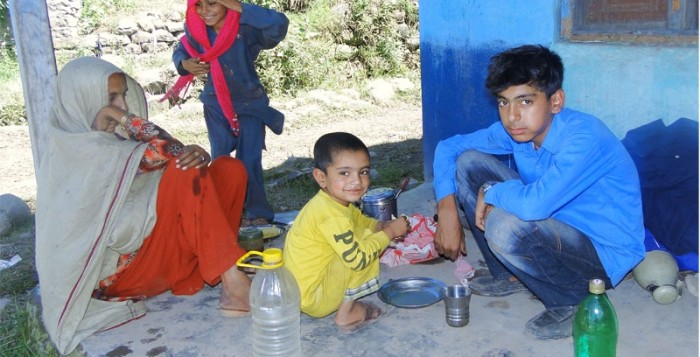 "Eating and living under the open sky is the most difficult experience of my life. We have lost our house, clothing, bedding, and everything in a sudden wave of floods two days ago," said Noor Jan. Noor Jan and her family which includes her husband and four children are residents of Chattar 2 located in Bagh District in Azad Jammu & Kashmir. Her husband works as a daily wage laborer. As refugees in 1989 from the Indian part of Kashmir, Noor Jan and her family received land on lease to have their own house. The severe floods in Mall River swept away the settlement of refugees living on the bank of the river in Chattar 2. The land which was once home to 87 refugee families at Chattar is now covered with silt and debris.
"There would be a shortage of food sometimes when my husband would not find work for a few days, but I always felt safe living in my own house," said Noor Jan.
Following the destruction of their home, Noor Jan and her family live in an open place along the road. She is concerned about her life returning to normal without a place for her home and within the limited means of her husband's income. "My husband does not earn very much so this does not promise us a normal life."
Noor Jan's daughter, Naheed Akhtar, had hopes for higher studies. Before the floods and landslides destroyed her school, she was studying in fourth grade. As many as 120 children attended the school which was located less than half a kilometer from Naheed's home.
Many families like Noor Jan's currently lack access to safe drinking water as water supply schemes have also been severely damaged. Families have expressed concerns about the upcoming extreme winter conditions in the absence of adequate shelter, bedding, and clothes.