Dairy Business Groups Profiting in Balakot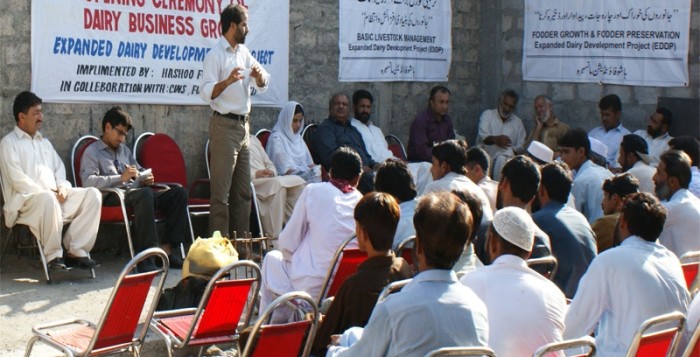 In 2006, Church World Service-Pakistan/Afghanistan initiated a livestock rehabilitation project for 1,500 earthquake-affected widows in Balakot in Northern Pakistan. Following the initial phase of livestock distribution, subsequent phases focused on capacity building, animal health, and included the establishment of a model dairy farm and bio-gas plants. Although the families who directly received livestock and training increased milk production and ultimately improved related nutrition intake, a gap existed in the aim to improve income.
Balakot is a very remote area where families still rely on a traditional barter system when it comes to poultry, milk, and agricultural products. It is also an area where women's mobility is restricted by cultural practices. Therefore, for widows, income generation was always a struggle. CWS-P/A encouraged these women that they could profit from the excess milk. While the women received increased milk production, dairy product sales remained limited to their close neighbors and relatives, which did not, in most cases, significantly increase their income. A second option was to sell milk through a milkman who collected milk from the widows. This method posed two main challenges. The quality of milk was not assured because pure milk and water contaminated milk were collected in the same containers. The second was that women lost income because they had to pay one out of six day's sales to the milkman.
To address these issues, CWS-P/A initiated four dairy business groups (DBG) and one central dairy business center between 2011 and September 2012. The DBGs serve the purpose of the middleman and also ensure quality through testing. Each DBG serves 100 members through an administration unit of seven to twelve members including a president, office and finance secretary, and a milkman. While the DBG is centrally located, a milkman is still paid by the DBG to collect milk from members who cannot reach the center on their own.
The leadership of the DBGs indicates a good sense of community ownership and likelihood of sustainability after the project ends. "I am very proud of playing my role in local DBG. We are organized, and it is always made sure that the community members get pure milk and other dairy products from DBG. The villagers trust us a great deal," expresses Qadir Hussain, General Secretary of DBG Dhoga.
Following the establishment of the DBGs, members earn an average of Rs 1,500 – Rs 5,000 per month (USD 16 – 53). The central business center collects the milk from the four DBGs and acts as the main sale center to the market. It has the capacity to provide 300 liters of milk per day for consumption and other dairy products. While decreasing the burden on the community to sell milk, the DBGs have also increased income for its members. Zeenat Bibi, aged 46, shares, "My four children attend school. The milk we get from our livestock is sufficient for my household needs. I sell milk to local Dairy Business Group and the amount I earn is spent on meeting the needs of my children at school. I do save some amount of money as well and will spend on my daughter's wedding ceremony. The organization also trained us on saving scheme which enabled us to prepare ourselves for the future." For sustainability and to further support the community, the central business center deducts Rs 2 from each liter of milk sale; Rs 1 goes toward the member's saving account and the other goes toward DBG saving.
While the DBG members benefit from decreased burden and increased income, the community also benefits from the provision of a consistent supply of dairy products at a quality level they have begun to trust. "Earlier, adding water to milk was a common practice and we were never able to get pure milk. Now, I am satisfied that the milk we get from the DBG is pure and tested. Surely, taking hygienically appropriate milk will do well to health of my children and other family members," describes Rubina, aged 44 and a resident of Dhoga Village, Balakot.