Home
CWS-P/A
CWS-P/A Launches First Quality and Accountability Booklet on Project Cycle Management in...
CWS-P/A Launches First Quality and Accountability Booklet on Project Cycle Management in Pakistan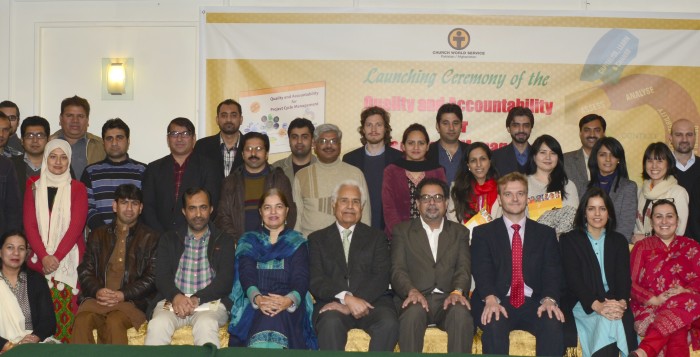 Islamabad, March 11, 2014 – As part of Church World Service-Pakistan/Afghanistan's (CWS-P/A) long-term commitment to enhance quality and accountability in humanitarian and development interventions, a booklet on Quality and Accountability for Project Cycle Management (written by Sylvie Robert and Astrid de Valon) was launched in a ceremony held at a local hotel.
"The booklet is unique as it helps navigate a variety of Q & A initiatives and tools in a user-friendly and practical manner" mentioned Shama Mall, Deputy Director CWS-P/A in her opening speech. Underlying the need for the booklet, she pointed out "there are now around 71 various Q & A initiatives world over, which make the task of practitioners very overwhelming in choosing appropriate tools during a project cycle. The aim of the booklet is to ensure quality and accountability of affected populations at each stage of an intervention and contributes to CWS-P/A's efforts of promoting Q & A amongst the humanitarian and development sector. It also aims at informing the international efforts on harmonization of Q & A initiatives."
This booklet provides a practical roadmap to project cycle management and underlines how to incorporate Q & A right from the designing stage, highlighting which tools are available at each stage of the project life cycle. It aims at supporting practical implementation of Q&A ensuring awareness raising and knowledge sharing. It has been designed specifically for field practitioner/s who are managing humanitarian and/or development projects and are keen to improve Q&A towards communities. The booklet, which will also serve as a field guide employs a rights based approach.
The chief guest at the occasion, Mr. Jonathan Brooker, Humanitarian Affairs Officer – UNOCHA in his remarks congratulated CWS-P/A for all its efforts for compiling and launching this unique booklet and thanked the authors for their indepth research. He further stated that, "he learnt a lot during the CWS-P/A training on Q & A which he attended last year and that was the best time he had spent in Pakistan. He also reiterated that we need to ensure implementation of the tools underlined in the booklet". The Regional Representative CWS-P/A Mr. Farrukh Marvin Parvez who also appreciated the effort put in for compilation of the booklet presented a copy of the booklet to the chief guest.
Donors, implementing partners, government officials and members from various NGOs and iNGOs attended the launch. Church World Service-Pakistan/Afghanistan (CWS-P/A) is an ecumenical organization, working in Pakistan and Afghanistan for the development and relief of marginalized communities since 1954. It promotes Q & A in the Asia Pacific region as part of role as Regional Partner for the Sphere Project and country focal point in Pakistan.