CWS-P/A Launched the Sphere Handbook (2011) in Urdu and Q&A Workbook in Sindhi for I/NGOs in Pakistan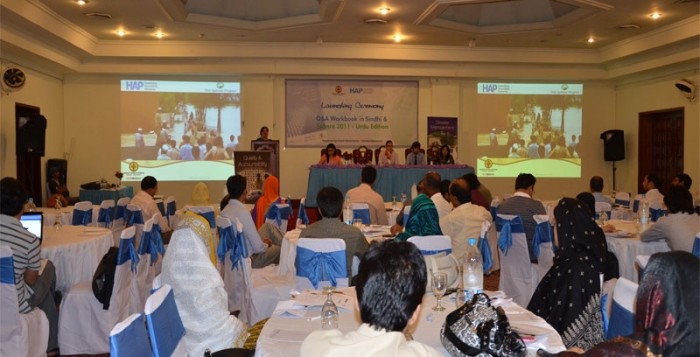 Hyderabad, Sindh. June 27, 2012 – Upholding its belief to promote accountability within Pakistan and Afghanistan, CWS-P/A recently published the translated version of Sphere (2011) in Urdu. Quality and Accountability Workbook in Sindhi language (including the Humanitarian Accountability Partnership's HAP Standard) was also introduced at a joint book launching event in the city of Hyderabad. The Workbook is also available in English and Urdu.
The books serve as important guides for NGOs operating in Pakistan that want to improve their accountability to affected populations. Both the Sphere Handbook in Urdu and Q&A Workbook in Sindhi focus on the implementation of transparent aid interventions, thereby ensuring NGOs work to provide more deliverable aid whileupholding the rights of dignity and respect of those affected by disasters. As man-made and natural disasters in Pakistan become more protracted and recurrent, CWS-P/A will continue to advocate and promote quality and accountability in all phases of emergency response and recovery.
Following the launch of the publications, CWS-P/A and Oxfam International facilitated the establishment of the sub- Accountability Learning Working Group (ALWG) for the province of Sindh. The ALWG, a peer-to-peer support group, will allow NGOs in Sindh to share knowledge and experience of implementing projects in line with international quality and accountability standards. It allows for organizations to discuss their organizational commitments and challenges as well as coordinate development activities. 43 Representatives from 32 I/NGOs at the present, agreed to meet again next month to draft the Terms of Reference (ToRs) for the sub-ALWG in an open group discussion.
CWS-P/A urges more NGOs in Sindh to participate in this important group discussion and benefit from peer-to-peer learning. As I/NGOs have the responsibility to deliver aid in the most efficient, effective, and dignified manner, CWS-P/A offers professional services to improve how organizations can operate with a focus on quality and increased accountability. A series of trainings have been organized to provide technical guidance on the application and promotion of international standards.
For more information on these services and to order books, please contact: