CWS-P/A Contributes to Global Quality and Accountability Initiatives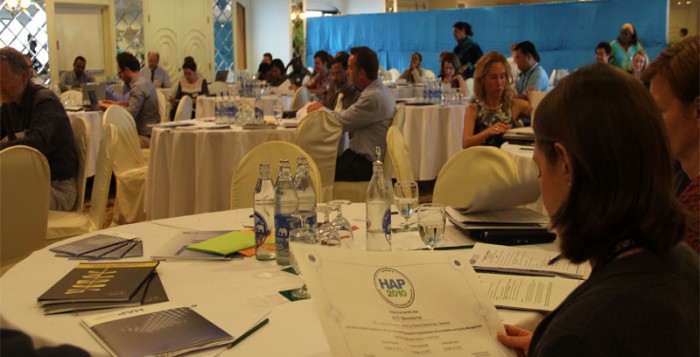 In late October, CWS-P/A hosted the 2013 HAP General Assembly in Bangkok, Thailand. Seventy representatives from HAP member organizations attended the two-day meeting that included the endorsement of HAP's strategic orientation and commitments to ensure it remained focused on the current and future needs of the humanitarian sector. During the meeting, updates were shared regarding the Joint Standard Initiative (JSI), post JSI phase, and the Core Humanitarian Standard. Additionally, discussions were held on HAP achievements, the attainment of more accountable humanitarian action, and the promotion of national leadership in disaster prevention and response.
Zainab Raza, CWS-P/A's Deputy Director for Organizational Development, was elected for the second term as the Vice Chair of the HAP Board. The HAP Board includes members from a cross section of experience in humanitarian and related fields.
Shama Mall, CWS-P/A's Deputy Director for Capacity Building and Social Development Programs, also recently accepted an invitation to be part of the Technical Group for the development of a Core Humanitarian Standard and coherent standards architecture.
Prior to the meeting in Bangkok, a HAP and Steering Committee for Humanitarian Response (SCHR) learning event was held with 90 humanitarian workers from HAP member and non-member organizations to discuss the effectiveness of certification. Participants through three break out groups engaged in discussions that included topics – what is certified, and how? , governing and managing certification schemes, and can we afford certification?
As a certified member of HAP, CWS-P/A continues to advocate and actively promote quality and accountability among its peer organizations. Overall, this confidence bestowed by members validates the efforts, commitments, and initiatives from CWS-P/A towards accountability.