Creating HIV and AIDS Awareness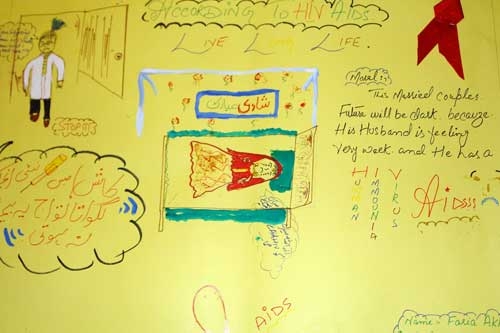 "HIV & AIDS is a serious issue and people need to understand the importance of getting adequate treatment. Keeping an entire family secure is essential and this requires spreading right messages," shares Faria Akhter, winner of the first prize at the HIV & AIDS poster exhibition held recently by CWS-P/A.
"My poster reflects the idea of maintaining healthy relationships and moreover keeping a family protected," says Faria. Her poster was selected from twenty shortlisted posters which had been displayed at the exhibition. Students also participated in speech competitions which demonstrated the knowledge they had gained at prior awareness sessions. Between April and June 2010, three poster competitions were organized in Karachi with more than two hundred participants.
Many students presented conceptual ideas through their posters and demonstrated an understanding of the severity of the disease. "The students have certainly been creative, and it is amazing to see such different ideas," says Beenish Hashwani of CWS-P/A. "Moreover the adolescent sessions develop awareness about possible preventive options while aiming to reduce the stigma created against HIV & AIDS positive people."
For almost seven years, CWS-P/A has worked to mitigate the spread of HIV & AIDS and their effects through initiatives including trainings with health practitioners and awareness sessions. Challenges exist in Pakistan and Afghanistan with regard to discussing topics such as HIV & AIDS and sexual health. Both societies are less aware of and less open to discussing these topics. A large percentage of the population remains against such initiatives; this is mainly due to cultural constraints and the lack of information and understanding on the implications of not addressing these issues. However, positive change is noted by an ever-increasing number of participants at trainings and greater participation in question and answer sessions.
"It is about presenting people with options, their right to choose, and women unfortunately are deprived of this right," shares Hashwani. "The set-up for open discussion is fundamental in this regard and in curbing the spread of HIV & AIDS."