Creating Cleaner Spaces in Schools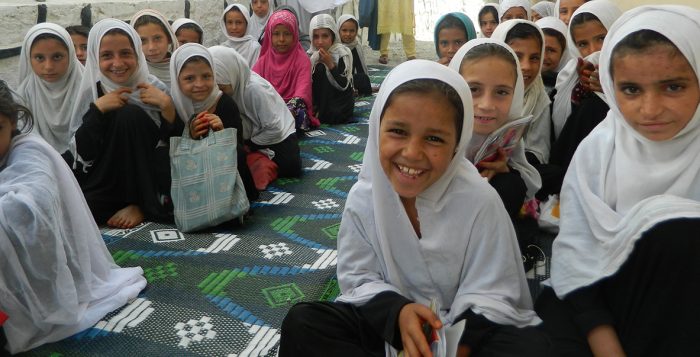 The past three decades of conflict have had a detrimental effect on Afghanistan's education system. According to UNDP's Human Development Report 2015, school-aged girls have been the most vulnerable group as a result of the conflict's aftermath. However, the nation has been showing signs of progress as literacy rates have been on the rise as of late, over the past decade. Despite a significant improvement in children's education, Afghanistan's youth still has a great number of problems to address, especially afghan girls, who have to face obstacles such as early marriage, lack of security, and inaccessibility to schools and infrastructural facilities.
Lack of infrastructure, including the issue of inadequate classrooms and furniture in schools being a most major difficulty, leads students to sit in open air in fields, on non-cemented floors without the availability of basic mats or carpets. With the support of Japan Platform's additional fund, the Quality Education and Safe School Environment project team initiated a needs assessment to identify the quantity of plastic mats needed in each of the targeted schools. After reaching a conclusive number, the project team procured and distributed 140 plastic mats in eight targeted schools of Behsood district. The plastic mats provided 4500 female students with a comparatively cleaner and safer studying environment.
Amina, a third grade student from Farm-e-Ada Girls High School says, "Today I've found that we have been given plastic mats to sit on during class, and I am very happy. Last year, we requested our principal to provide us with mats because the floor was very rugged, and the few mats that we had lying around were torn and old. The principal said that he had already requested the education directorate for this, but had not received a response till now." Amina added, "My mother had to put an extra effort to wash my uniform every other day, simply because it got too dusty when we sat on the old dirty mats. She always complained to me that I came home dirtier than other kids. I used to tell her the reason behind this but she didn't believe me. Until one day, she visited our school and saw us sitting on the floor during class. It was never a pleasure or easy to sit like this. But now, I prefer to rush early to school to make sure that I get the best spot on these clean mats in my class. Sometimes, when I reach half an hour early, I see that girls are already filling up all the space because they look forward to it just as much as I do." Amina seemed most excited to get back home and inform her mother of the good news.
Security and basic needs must also be accommodated. Many parents do not allow their children to attend a school that does not have a safety, or boundary wall. In addition, many older Afghan girls are forced to drop out of schools that don't provide basic sanitation facilities. We aim to improve the access to adequate educational facilities and services, and to ensure equitable access to quality education for girls, particularly those living in poor and remote rural areas.