Continuing to Promote Quality and Accountability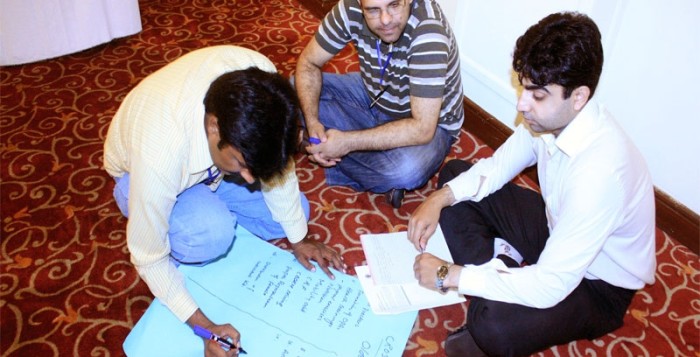 In July, CWS-P/A's Strengthening Humanitarian Assistance Program (SHA) continued with training activities that supported mainstreaming of quality and accountability within the organization. Approximately 57 staff members participated in four workshops held in Karachi, Lahore, and Islamabad. Based on a participatory approach, the workshop focused on CWS-P/A's Accountability Framework, Humanitarian Accountability Partnership (HAP) Standard 2010, CWS-P/A's HAP certification, and the use of HAP and Sphere as tools for monitoring and evaluation. The training also helped project team members gain a better understanding of their roles and responsibilities in upholding CWS-P/A's accountability commitments.
Additionally, the department also conducted two trainings on Sphere Minimum Standards 2011. The need for training had been identified by HelpAge International in Pakistan and was conducted for its staff and implementing partners with a range of activities focusing on the use of the Sphere handbook within their projects. A total of 42 participants benefited from the training workshop which included case studies, discussions and group activities, and reflection and lectures among other teaching and learning methodologies. The organization also distributed over 50 Sphere handbooks to HelpAge International. Between January and July, 2,824 Sphere handbooks, 381 HAP Standards (English), and approximately 100 HAP Standards in Urdu were distributed among peer organizations.
In June, the organization launched its Quality & Accountability Workbook in Sindhi language and recently distributed 180 books to more than 50 national and international non-governmental organizations. These books will also be available in English and Urdu languages.
In the coming months, CWS-P/A's SHA Program will be conducting workshops on quality and accountability in Hyderabad, Jalalabad, and Kabul. The workshops will help to increase understanding on the importance of quality and accountability in project activities and also promote knowledge on HAP and Sphere Standards along with other activities.
More information about upcoming SHA activities can be accessed at http://www.cwspa.org/resources/training-calendar