Continued Health Awareness Saves Lives in Pakistan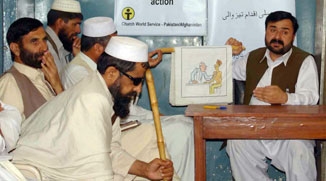 Over the past several months, CWS-P/A has continued its health awareness efforts on tuberculosis and HIV and AIDS with vulnerable communities Pakistan.
CWS-P/A Raises TB Awareness with Afghan Refugees
For many displaced communities, a lack of health care awareness contributes greatly to the spread of infectious diseases – like tuberculosis – and causes additional hardships in environments of great vulnerability.
"While TB is a global challenge, one of our main concerns locally is the taboo of the disease," said Dr. Qamar Zaman, the medical coordinator for CWS-P/A's health program with Afghan refugees in Mansehra, Pakistan. "We have to raise the level of awareness among the people – that the disease is preventable and curable."
"Female refugees are particularly vulnerable to chronic infections due to inadequate nutrition and large family sizes," said Dr. Qamar.  "There is enough evidence available to say that women belonging to the Afghan community are deprived of balanced diet and secondary health care services."
He shared that the main focus of the most recent seminars, held on World TB Day, March 24, has been to reduce the taboo of open discussions about the disease amongst community members and to raise the importance of early detection and timely treatment.
CWS-P/A's health project staff played an important role by arranging sessions for religious leaders and elders of the community about prevention and control of the disease.
"Our project assists approximately 56,000 Afghan refugees in Manshera and we recognize the difficulties they face," noted Dr. Qamar. "Over the past few months the security concerns of aid workers have also increased and this is now an added challenge."
In recent years, humanitarian aid organizations have become increasingly threatened by attacks. Last month, six staff from World Vision were killed in an attack on their Mansehra office. Seven others were injured.
Despite these challenges, CWS-P/A's health program continues to respond to needs of displaced communities by providing primary and preventive health care along with health education to further community development.
Community Awareness on HIV and AIDS
Recognizing the challenges of promoting open discussions on HIV, CWS-P/A has found creative ways to raise awareness with various societal groups including religious leaders and students to help curb the spread of HIV and AIDS in Pakistan.
In early March, a one-day awareness session was held in Karachi at Shadman town for 59 males from diverse communities to educate them on the modes of HIV transmission, prevention and testing. In addition, a discussion on the connection between gender and HIV also took place at the session. Participants demonstrated eagerness in learning and were given certificates as a symbol of motivation and appreciation.
CWS-P/A staff stressed that continuous commitment is needed in order to have a substantive impact on society, and to prevent HIV from becoming a widespread pandemic in Pakistan. In upcoming months, sessions with females and poster competitions amongst adolescents will be held in the provinces of Sindh and Punjab.
CWS-P/A not only aims to promote prevention discussions on sex and reproductive health, but also works to increase access to treatment.