Conference Day 1 – The Relevance of Security Risk Management for Humanitarian Organizations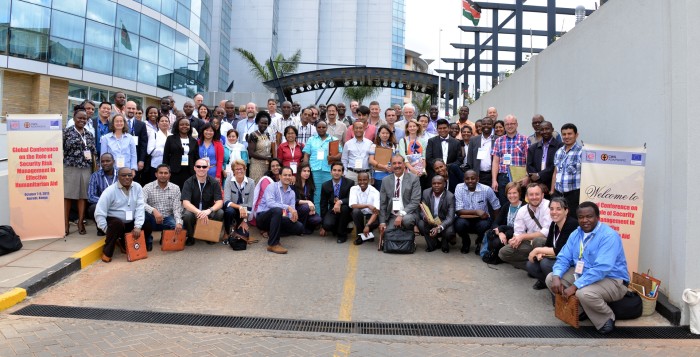 The "Global Conference on the Role of Security Risk Management in Effective Humanitarian Aid" started today in Nairobi, Kenya, focusing on the relevance of security risk management for humanitarian organizations as well as the importance of mainstreaming such concern all across the organization.
As an introduction to the conference, Dan Tyler, Regional Representative for CWS-Africa, reminded participants about the Multi Regional Security Risk Management Capacity Building project that led to this conference. He insisted on the need to institutionalize security management and to develop a systemic approach that links security management to the overall organizational development.
Jens Kolmos Serritslev, DanChurchAid Security Advisor, described how security is about the people, as each organization has a moral and legal duty of care toward its staff, the organizations' assets, their reputation, the efficiency of their programs and, last but not least, the effectiveness of funding. Today, donors are more and more concerned about security and integrate such concern in their support.
His Excellency Mr. Greet Aagaard Andersen, Ambassador of Denmark in Kenya, referred to the regional context of Africa and the recent terrorist attack in Nairobi as he raised the importance of risk mitigation for humanitarian workers. As the regional representative of DANIDA, the Danish Aid Agency, he also insisted on the role of donors to support and fund their efforts in managing risks, improving information sharing and capacity building, in order to integrate security at all levels, in an effective way.
"Humanitarian workers' safety and security is a big concern these days and this conference is very timely."
Such statements set up the tone of the conference and Uma Narayanan, the HR and Organizational Development Specialist who co-facilitated training held earlier this year, led a panel discussion on mainstreaming.
Echoing the Ambassador's statement, Uma said,"Humanitarian workers' safety and security is a big concern these days and this conference is very timely for themselves and for the organizations." She also referred to the growing interest of donors to integrate security into the design of the project and the appeal. She acknowledged that there is still a long road ahead to change people's mindset, but she appreciated how, during this first day, words such as "mainstreaming", "duty of care" and "risk management" became part of participants' vocabulary.
Breakout sessions held in the afternoon enabled people to learn, network, and share experiences and information of safety, security, and duty of care. Widespread consensus was that the conference was responding to a common concern, and despite the challenges ahead, a common need.
As the three-day conference continues, various security related issues faced by humanitarians working in Africa, Asia, and the Middle East will be addressed by experienced practitioners and experts. The conference is part of an ongoing 15-month project implemented by CWS-Asia/Pacific in partnership with DanChurchAid, with financial assistance from the European Commission's Directorate General for Humanitarian Aid and Civil Protection.