Community Support Vital for Education in Afghanistan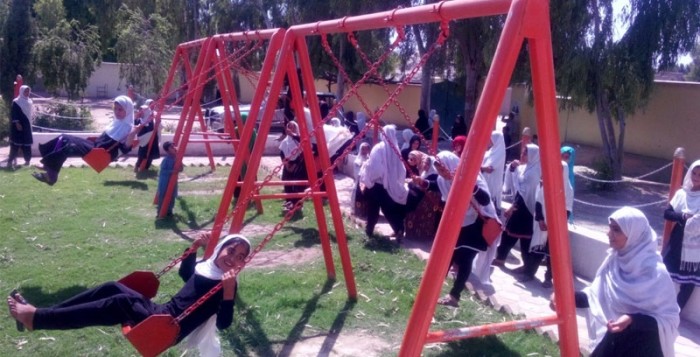 "Traditionally they say and it is believed to be offensive if a woman works outside her home and earns money to support her family," said Zahida. Zahida is currently a teacher in Mesha Khail Girls High School located in Qarghai District, Laghman Province, Afghanistan. She had completed high school and had always dreamt of becoming a teacher. "I had already discussed this with my family many times so as to convince them to allow me to pursue my career as a teacher." Zahida added, "After graduation, I applied for the position of a teacher in Mesha Khail Girls High School and by the completion of the formal process was hired."
Zahida was soon left with no choice other than to leave her career when she was married two months after joining the school. Khan Agha, Zahida's husband, had previously accepted that she would continue her teaching career after their marriage. However, Khan Agha shared that he did not want his family and relatives to think that he was letting his wife work outside their home so as to use the income she brought back.
On the day Zahida submitted her resignation she said she cried and shared her feelings with teachers and students at the school. "I had lost my happiness and felt my life was ruined."
After awhile, a parents and teachers committee (PTC) meeting was held. The meeting was attended by the project staff and members of the village Community Development Council (CDC). Zahida's resignation was discussed and the school management was requested not to process the resignation until the PTC members have used all efforts to bring Zahida to teach at the school again.  Ghulam Ali, leader of the CDC, who previously attended the child rights training conducted by the project team assured the PTC of his help in meeting Khan Agha's family and convincing them to let Zahida rejoin school.  At Khan Agha's home, the PTC members along with Ghulam Ali informed Khan Agha's father that it was not shameful for a woman to work outside her home so as to help the people of her country and support her family. "I believe we need to be proud of women who are working outside and taking in developing the country especially, teachers, because they are the ones who pave the ground for our daughters to join school and complete their education," said Ghulam Ali.
Khan Agha's father accepted that he would convince his son to allow Zahida to rejoin school. Shortly afterwards, Zahida was seen back at school where she received a warm welcome from teachers and students. She shared, "Returning back to school was a very happy day for me. Teaching is not just a job for me but it is my dream to help children learn, read, and write. The day I resigned, I really did not know how I would continue the rest of my life and now through the support of the project, PTC, and CDC members, I once again am living my dream."
Zahida's story demonstrates the active involvement of the PTC and CDC in the girls' education project. It also shows their support in promoting quality education by ensuring that dedicated teachers like Zahida are able to continue teaching students. The efforts to bring Zahida back to school to resume her career is an example of the capacity building steps the project has achieved which also includes the engagement of community members and their realization of the importance of education and presence of female teachers.
Other capacity building initiatives by the project include trainings for teachers and students that focus on classroom pedagogical skills, information awareness sessions for students on a range of topics, and the promotion of extracurricular activities. Previously, 16 awareness sessions were held on the importance of education for children and girls and various sessions on child rights, peace education, child psychology, gender equality and teaching methodologies were held for students, teachers and parents.
With better teaching methodologies in classrooms and increased communication between communities and school, an overall 1,554 new enrollments in 14 schools were recorded in 2013 for both girls and boys.
CWS-P/A's project in education to promote education for girls is financially supported by Presbyterian World Service & Development and Act for Peace.