Committed to Promoting Education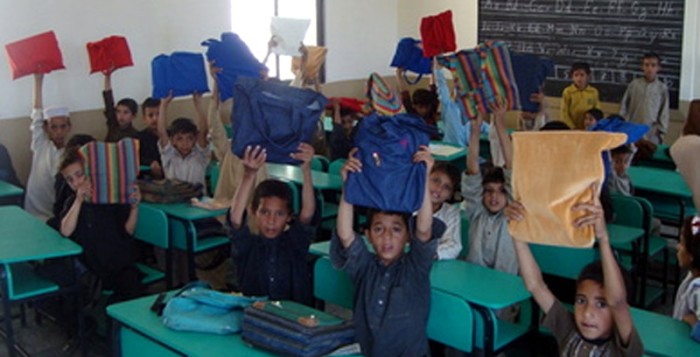 Months after CWS-P/A completed a school reconstruction project in Mansehra District, Pakistan, students who attend these schools received school kits to help promote the continuation of their education. The reconstruction of ten schools was a rehabilitation initiative for areas affected by the earthquake of 2005.
Because major disasters spare little, the education sector suffered greatly during the 2005 earthquake. Thousands of children died when their school buildings collapsed. Providing a safer school environment was the first step to getting children back in school. Each of the ten school buildings was reconstructed according to Sphere and earthquake-resistant guidelines and was equipped with electricity, better lighting, fire buckets, extinguishers, safety grills, and sanitation facilities. At least 700 students benefited from this initiative, with enrollment figures rising even before reconstruction was complete.
In order to help further promote education, CWS-P/A distributed 786 school kits to the students at the ten schools between September 27 and November 1, 2011. The kits contained notebooks, pencils, color pencils, erasers, sharpeners, and rulers. For families where paying for education is barely in reach, what seems like a simple gesture can make a world of difference for the students and their ability to remain in school.
CWS-P/A hopes that providing a safe environment that is conducive to learning and promoting the importance of education will continue to result in increasing enrollment figures. The organization addresses education, particularly promoting girls' education, across Pakistan and Afghanistan. By following integrated approaches that focus on infrastructure, teachers' capacity, and increasing awareness on the importance of education, CWS-P/A will continue to work with communities to help address the underlying factors preventing children from attending school. For every single student that enrolls in school due to the various initiatives, one step forward in helping children access their basic right to education is attained.