Collaborating to Foster Change in Swat District, Pakistan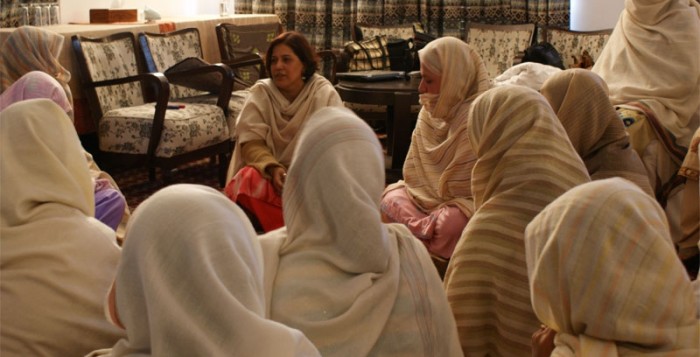 With the collaborative efforts of its Disaster Management Program, Capacity Building Program, and Social Development Program, Church World Service Pakistan/Afghanistan has been working in Swat District, Khyber Pakhtunkhwa Province to help the most vulnerable communities affected during militant activities. Consequently many girls had to give up their education while several schools were destroyed in the district.
As the project continues, teachers and students benefit from sessions designed to promote quality education and enhance their teaching-learning skills. In the meantime, destroyed schools are being reconstructed, furnished, and provided with first-aid kits in the union councils of Qambar and Kozabandai.
Recently a session on "Classroom Pedagogical Skills" was held with twenty-two teachers. "I gained a lot of new information from these sessions," says Ms. Shabana Azmi, a teacher from the Government Girls' Primary School in Qamabar. "I like the idea of assigning classroom tasks to students. This is something I did not do before." Facilitator, Tasneem Sarwar at the session shares, "When teachers are motivated and incorporate new teaching methodologies, it reflects in the well-being of society."
Over the past months, teachers and students have also benefited from sessions on "Disaster Preparedness and School Safety" and "Cooperative Learning". Attath Bibi, Principal of the Government Girls' Primary School with twenty-four years of experience in the union council of Kozabandai shares, "Our knowledge has expanded through the training, and now, we know how to evacuate our school children during an emergency situation. Five years ago when the earthquake happened, it was hard to evacuate the children. They were panicking and just running around. It would have been good to have had this knowledge before." During these sessions teachers were made aware of handling emergency situations, drafting school safety plans, and understanding disasters and appropriate safety measures. Information was shared regarding local, emergency contact numbers and details with teachers and students.
Students also received school kits containing notebooks and stationery. Approximately, nine thousand kits have been distributed in approximately forty-two schools in various union councils. Moreover, CWS-P/A believes that these messages of disaster preparedness and school safety will be passed on to family and community members through trickle-down effects. Together these initiatives will also help create better learning environments that are secure while improving female literacy rates in Pakistan.