Coherent Monitoring & Evaluation Systems lead to quality Education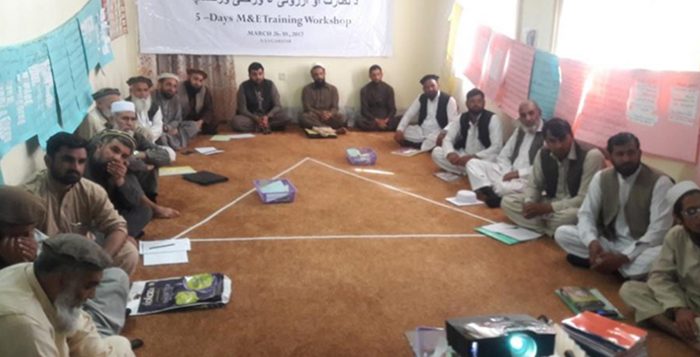 Improving the capacities of education officials on monitoring and evaluation (M&E) skills contributes directly to the quality and accountability in reporting on education. It also impacts the expectations of schools and teachers that are held accountable for sub-professional behaviors, such as absenteeism.  Improved M&E systems would also support better reporting and would lead to improvement in information available to relevant decision-makers. To refine the existing system, a Monitoring and Evaluation (M&E) Training was conducted in Nangarhar Province, Afghanistan end of March this year for Provincial and District level education directorates. A total of 20 participants (men) attended the informative training at the Community World Service Asia office in Jalalabad.
Education officials in Afghanistan undertook joint monitoring visits to schools that are part of Community World Service Asia's Girls Education Project to observe teacher trainings, classroom instructions and school-based civil education camps. In addition, they received coaching on appropriately utilizing M&E tools and on developing a comparative study of M&E systems run by other professionals in different fields.
The participants were trained on the difference between Monitoring and Evaluation processes and how to conduct an effective monitoring visit to thoroughly observe the teaching process of school teachers and the management system of school principals. During the training, the participants were engaged in various group activities where they developed monitoring and supervision plans and ways of using existing forms and formats of the Education Directorate for monitoring purposes, providing feedback and recommendations. Sessions on conflict resolution further modified the participants' role in conflict management, if any existed in the schools.
Schools and teaching environments will benefit greatly through the commitment of effective M&E staff provided they are well equipped with knowledge and necessary skills in the said field. The monitors efficiently conduct visits and provide teachers and school management with good and constructive feedbacks and recommendations in order to improve. Furthermore, the regular visits of M & E officers will ensure systematic school management processes. The teachers' teaching methods are observed to assure that new methods learnt from trainings are implemented rationally; existing gaps are identified and further improved accordingly. These trainings are vital as it enhances monitoring systems in the Ministry of Education and fulfils the aim of ensuring quality education within the targeted schools.