Challenging Social Discrimination through Youth Leadership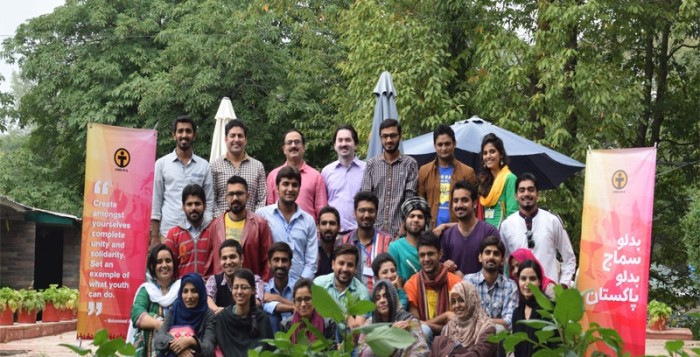 Church World Service-Pakistan/Afghanistan held its second workshop with university students on the issue of social discrimination against religious minority communities, attended by 26 students from the University of Agriculture, Faisalabad. The four-day workshop was held at O'Spring, Murree, and explored the ways in which minority communities experience discrimination at a social level. The students all have extensive experience in the creative arts, with a range of backgrounds including photography, theater, music, film, art, and dance.
Dr. Atif, who has been facilitating CWS-P/A's partnership with the university, shared that both he and the students initially had some concerns about attending the session. After the introductory workshop held on campus, some of the students had been afraid that the purpose of the project was evangelical, and they had been resistant to the concept of religious discrimination. However, Dr. Atif confirmed that these fears have now been resolved. "The facilitator let the students speak, and the concerns about religion were addressed very well."
Dr. Atif remains convinced of the importance of the project for his students. "I have experienced discrimination, and I had a choice to either close myself off or try to break the cycle. Everyone has a right to peace and happiness." Dr. Atif viewed the premise of the workshop as a gateway to addressing discrimination more broadly in the future. He believes that by addressing discrimination against religious minority groups, awareness will also be raised about existing prejudices across society and the ways in which ethnic, linguistic, and economically marginalized communities face discrimination. He feels that the message of tolerance will be well received by other students on campus and that the action planning included in the workshop is a valuable way to support the students to maintain their efforts. "There are so many things we can do," he says.
The students proved him right with their energy, creativity, and motivation. They shared their plans to use their talents and experience to advocate for the rights of minority communities among their fellow students. Proposals for photography competitions, theater performances, seminars, and street art exhibitions were presented, and the students showcased some short documentaries which they had developed, covering large-scale events which they had planned and hosted themselves.
Sehrish, a student, shared why she is so passionate about promoting the rights of religious minorities: "My grandfather lived in India before the partition, and he was persecuted as a Muslim because he was in the minority. Then when he moved to Pakistan, he dedicated his life to protecting Hindus from the same kind of discrimination he had suffered."