Capacity Building: Theater for Development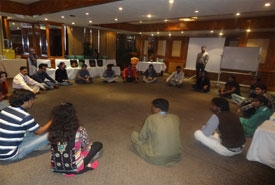 CWS-P/A's Capacity Building Program has conducted several trainings over the years to build the capacities of civil society organizations, community groups, teachers, and students on the use of theater as an important communications and advocacy tool.
Recently in March, the Capacity Institutionalization Project (CIP) carried out a training, "Theater for Development," in Lahore, Pakistan. The training focused on engaging participants to use theater as a tool to address various issues while also creating awareness. Additionally, the training helped participants enhance their knowledge on interactive and street theater, the art of creating stories, and developing issue-based content in interactive theater.
"CWS-P/A is playing a vital role in promoting interfaith harmony and peace among people belonging to different religions and provinces through these capacity building workshop initiatives," shared a participant at the training. Another participant said that the session on improvisation of theater was informative by developing a one-line story, music, and script which allows narrating stories in an effective way.
In the coming months, the CIP team will hold follow-up sessions with participants to gauge the impact from the training. Furthermore, twelve theater productions will be organized by participants in their communities pertaining to thematic interventions of their work.
CWS-P/A continues to build capacities across Pakistan and Afghanistan with financial support from its partner, Bread for the World (BfdW).
For information about CWS-P/A's training opportunities, please access the website at http://www.cwspa.org/resources/training-calendar