Capacity Building: Strategic Planning For Organizational Growth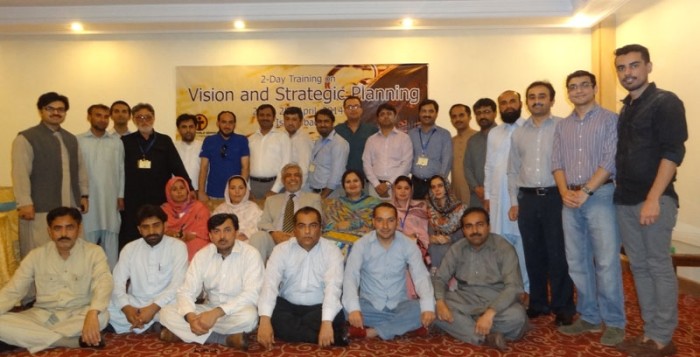 April 2014
The development of a strategic plan greatly helps an organization to align its focus by clarifying its vision, mission, and required resources. In order to support civil society organizations in Pakistan, Church World Service-Pakistan/Afghanistan (CWS-P/A) organized a two-day training on "Vision and Strategic Planning." Thirty-seven individuals participated in the event, held in Islamabad and Karachi. The training aimed to help the participants improve their understanding of strategic plans, organizational priorities, and institutionalization. Following the training, the participants should be able to identify long-run goals for their organization and ways to achieve them.
An experienced coach and motivational speaker, Mohsin Lodhi, facilitated both the trainings. He guided the participants through the strategic planning process including activities through which they developed a framework for a basic strategic plan and vision, goals, objectives, and a mission statement explaining their organization's purpose. Helpful tools, techniques, and ideas were shared to enhance their strategic thinking skills. The participants also developed understanding of how the planning process and its outcome determine the organization's foundational strength.
"This training helped me a lot to understand basic concepts of project implementation, their correlation with each other, and the importance of linking various components through vision," shared one of the participants.
"I learned a lot from experiences, sharing thoughts, group discussions and presentations. I am quite optimistic that this relation which has emerged through this training will be long lasting and multi dimensional and we will support our all friends," said another participant.
This project is implemented with generous support from Bread for the World.
For more information about training offered by CWS-P/A, kindly visit:http://www.cwspa.org/resources/training-calendar