Capacity Building: Monitoring and Evaluation Training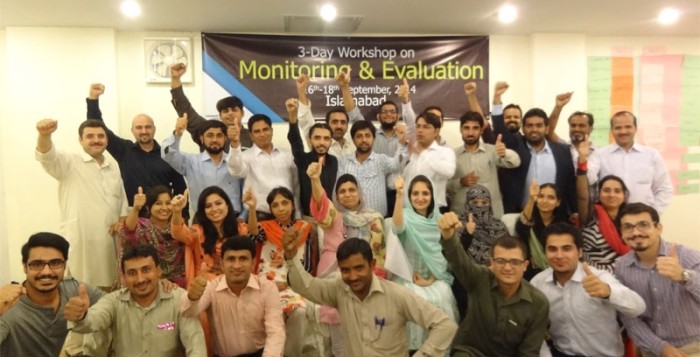 In September, CWS-P/A organized a three-day workshop on monitoring and evaluation for participants from various civil society organizations and NGOs within Pakistan to enhance their knowledge on the topic. The training, including an in-house session for Helping Hand for Relief and Development (HHRD), was attended by 48 participants in Islamabad and Hyderabad. Through a mix of lectures and group work, the participants received knowledge on basic concepts of monitoring and evaluation and developed an understanding in using Logical Framework Matrix (LFM) as a planning, monitoring, and reporting tool. The workshop was designed based on expressed interest from civil society organizations and NGOs to ensure that the capacity building opportunity was in line with skills and organizational requirements for enhancing monitoring and evaluation as a way to improve effectiveness of initiatives with communities.
Focus was placed on effective tools to aid in monitoring and evaluation which are further used to track progress and facilitate decision-making within an organization. While the participants actively engaged in group activities involving designing efficient and effective programs and activities that reinforce comprehensive monitoring and evaluation systems, they also received guidance from the facilitator, Ms. Rifat Shams. These activities and programs additionally benefit organizations to determine priorities and develop strategies through best practices and lessons learned.
A detailed analysis of the workshop assessment revealed that participants significantly appreciated the training content and methodology used by the facilitator. The organization's capacity building program frequently conducts training needs assessments and works to organize the highest quality trainings for humanitarian agencies operating in Pakistan, Afghanistan, and Asia-Pacific.
Upcoming trainings on a range of topics offered by CWS-P/A may be viewed through the link: http://www.cwspa.org/resources/training-calendar