Building Skills and Raising Awareness in Punjab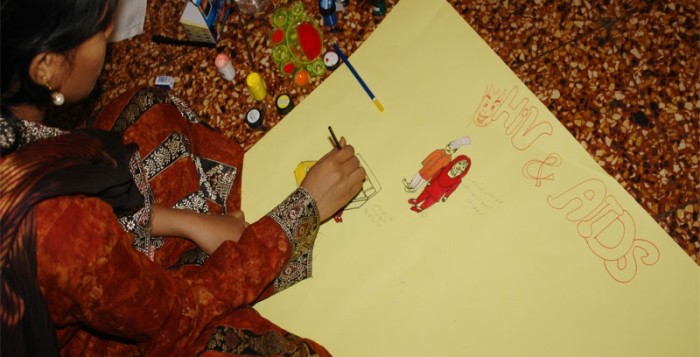 For over seven years Church World Service-Pakistan/Afghanistan has been working in Pakistan to raise sexual and reproductive health awareness. Frequent sessions are held with both male and female community members while poster and speech competitions are organized for adolescents. Despite social barriers often presenting challenges to CWS-P/A project staff members, the dedication to provide the awareness especially in far-flung areas remains largely commendable.
This year for the first time, CWS-P/A held awareness sessions in Multan, Vehri, Chistian, and Kasur in Punjab. The latter as shared by project staff presented a uniqueness of its own. During a session with female adolescents, many of them had female attendants who were relatives and acquaintances of participants. In Kasur, the mobility of young girls is restricted without female attendants. Project staff had not anticipated to conduct a session with over one hundred participants. They were able to engage them all in group activities with the hope of spreading the messages of safe sexual practices and reproductive health.
As usual during these sessions, a poster competition was organized to provide participants an opportunity to express their thoughts through art. The participants were not sure of how to use the resources provided to them and received guidance in using glitter pens and paints. HIV&AIDS Program Coordinator, Beenish Hashwani shared, "This was an eye opener for the team, and it truly was a unique skills building session which concluded successfully."