Building Community Capacity in Pakistan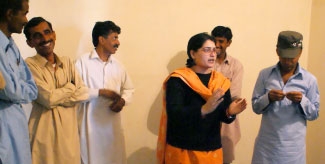 Over the past several months, the CWS-P/A Capacity Building Program has conducted several trainings to build the capacity of local community groups, teachers and others for improved education, social mobilization and advocacy.
Empowering Theater Groups for Social Mobilization and Advocacy
In Janurary and Feburary, the CWS-P/A Promoting Good Governance project carried out two trainings for theater groups to improve their capacity in social mobilization and the usage of theatre as an effective tool for advocacy at the community level.
Ms. Uzma Amer, a theatre participant said, "It was the first time I attended any training and enjoyed the experience." Another participant, a school teacher, Ms. Syeda Nargis Aftab, expressed that "the training was motivational and assisted her in learning how to move in and with the community."
To date, CWS-P/A has trained six theatre groups through its long-term Promoting Good Governance project by providing need-based trainings and skills to improve their advocacy in communities. Participants at the sessions shared their experiences and showed much appreciation for the interactive learning involved.
Promoting a Culture of Peace and Prosperity
In mid-February, training for primary school teachers was held in Hyderabad and aimed to improve educational systems that sustain and nurture a culture of peace and prosperity for the long-term welfare of societies.
Teachers from primary schools received training on issues ranging from peace, gender, sex and human rights to conflict resolution and power inequalities. They were also given a peace manual and workbooks for their students.