Building a New Life through Carpentry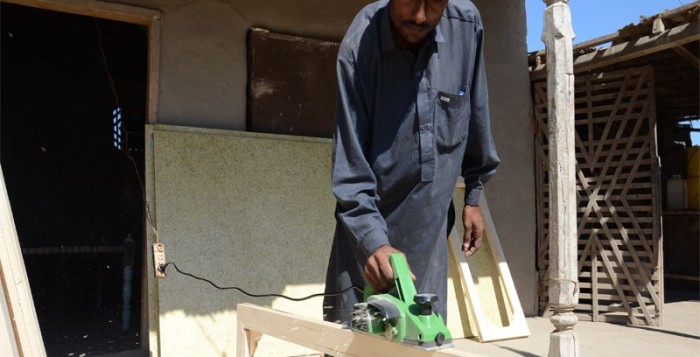 Pakistan's worst flooding in 2010 affected the lives of 20 million people across the country as floodwaters spread throughout the four provinces. More than 5.3 million jobs were lost. CWS-P/A's rehabilitation response included the restoration of livelihood opportunities through a unique approach comprising of skills training. These skills included carpentry, masonry, welding, plumbing, and electrical work taught at the training centers in Thatta and Khairpur districts. Currently at its center in Thatta, the third group of trainees is undergoing courses which will end in December 2011. The 125 course participants will receive diplomas affiliated with the Trade Testing Board in Sindh after successful completion of exams relevant to their trades. The graduates will also receive tool kits from CWS-P/A that are suitable for them to start practicing their trades. Students look forward to joining their predecessors who are earning a living by their trades.
A cumulative pass percentage of 99.3% was attained by the previous graduates from both centers. Among these successful graduates is thirty year old carpenter, Mohammad Essa, from Rahib Amroo Village, Thatta District. Mohammad Essa shares that because of the acquired skills he now earns 500 rupees per day (USD 5.7), an increment of 200 rupees (USD 2.27) from previous daily wage labor. "I have been getting orders for doors and windows from a carpentry shop in the city. Since graduation, I have also received occasional contractual orders from NGOs."
Mohammad Essa was quick to discuss the rising cost of living adding that his acquired skills are also helping improve his living conditions. He explained that the additional 200 rupees per day (USD 2.27) he earns helps his family which includes his wife, two daughters, and a son to cope with rising prices. Mohammad Essa happily shared that he rebuilt the roofing and secured the wooden panels around his house. "I have been taught well and did not have complete knowledge of the skill before." There is no doubt that Mohammad Essa would like to have his own shop and says, "I am poor. I do not have my own shop, and right now, I buy wood and use my house as my workshop."
While the eagerness in Mohammad Essa's eyes demonstrates an appreciation for the acquired skill, he is among other graduates that are contributing to reconstruction and paving the way for positive social development. In the coming months as CWS-P/A continues with recovery initiatives, a comprehensive approach is underway for housing reconstruction in Thatta. Through this project, CWS-P/A will also be able to provide employment opportunities for some of the graduates as local labor is used for housing construction.