Building a Better World: Partnering with Youth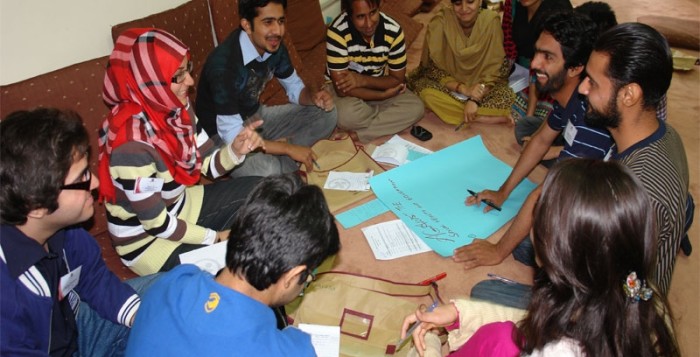 August 12th marks International Youth Day, and the theme for this year is 'Building a Better World: Partnering with Youth.' Over time countries have brought together forums and held conferences to promote the welfare of youth. While the day presents a significant opportunity to work with other countries in framing a worldwide plan for the development of youth, it must be made part of a holistic mandate that includes a political, social, and economic scope. This remains true for Pakistan and Afghanistan, two countries where opportunities that promote the welfare of youth remain deficient. International Youth Day is an opportunity to reflect upon the role we have in developing youth, acknowledging the achievements of individuals, and evaluating the systems that are meant to protect the well-being of all children and adolescents.
On the other hand, it must be the will of governments to ensure that vulnerable children and youth are guided with sufficient encouragement to work hard and realize their capabilities. The initiatives must involve parents as an important aspect of raising children to become adults who usefully contribute to building a better world. Despite the constraints, youth around the world and many of them in developing countries demonstrate significant talents, results, and endless hope to bring about change.
CWS-P/A contributes in many ways to the development of youth through its ongoing work in Pakistan and Afghanistan. The work focuses on providing youth with opportunities that promote education, citizen participation, political awareness, and knowledge on child and human rights. At the same time, the organization focuses on early childhood education to ensure quality education and meaningful learning. Initiatives successfully bring children back to the classrooms and foster a secure environment that is conducive to learning.
Padma, a young twenty year old teacher from the district of Mirpurkhas (Pakistan) participated in CWS-P/A's training of trainers (ToT) on peace manuals and workbooks. After its completion, she took the additional responsibility to impart training on peace education to other teachers in her school and community. Inspired by CWS-P/A's peace education curriculum, she said, "I have gained more patience and use a solution-oriented approach to solve problems at the school and among friends and community members."
In her village Padma's family had opted to let her work outside the home. Her family is among those Pakistani families that acknowledge the participation of women and the vital role of education for them. This still remains less common in the district of Mirpurkhas and its surrounding areas. Nonetheless her family's decision positively influenced her life, and she remains a role model for other girls living in her village and those in the surrounding areas. Many of them are inspired by her motivation and determination to teach students. Moreover, she is a direct reason why more girls felt motivated to enrol in her village's school.
While Padma is among the many examples that CWS-P/A's Youth Empowerment Program shares from its projects, she has also demonstrated efforts to work for the betterment of her community.
In the coming days CWS-P/A will be hosting a camp for youth from Pakistan and Nepal. CWS-P/A has been contributing to Local Capacities for Peace and Do No Harm in the regional network and through joint assessments among the South Asian network of member organizations. The camp will promote peace building, conflict resolution, interfaith harmony, and advocacy among other activities. These activities work to encourage youth to bring positive change in their society as they further develop their understanding on peace-building. Moreover, it provides a forum for youth to gather and learn by sharing knowledge.
This International Youth Day must also be utilized to reflect on the current systems. Do the systems—governmental, educational, health and so on—protect the welfare of youth so they are capable of contributing to making their countries a better place to live? Furthermore, are the systems accessible, fair, and free from discrimination so that all youth may benefit equally? Both Pakistan and Afghanistan are signatories to key international agreements that protect the rights and welfare of youth. These include the UN Declaration of the Rights of the Child, JENESYS Program between Japan and Pakistan and the Youth Exchange and Study Program (YES) between America and Pakistan, and the UN Joint National Youth Program (JNYP) in Afghanistan. However, a glance at both countries shows that implementation of these commitments has not yet reached a level where discriminations—such as income, caste, and gender—can be overcome. There are many actors in both countries working toward alleviating the obstacles, challenges, and inequalities faced by youth, but more still needs to be done. In particular, the promotion of empowerment and education, especially for girls, requires additional emphasis.
An all-inclusive approach to sustain the long-term development of youth must be facilitated with an adequate supply of resources that encourage welfare of all youth. Opportunities to increase awareness, develop leadership qualities, and help youth seek their dreams must be made part of a framework that also works to recognize efforts of youth and their positive contributions. Together these steps can endorse consciousness among youth and inspire them to build a better future.
Padma's story was contributed by Junaid Ahmed, CWS-P/A.