Breaking Ground for Housing in Thatta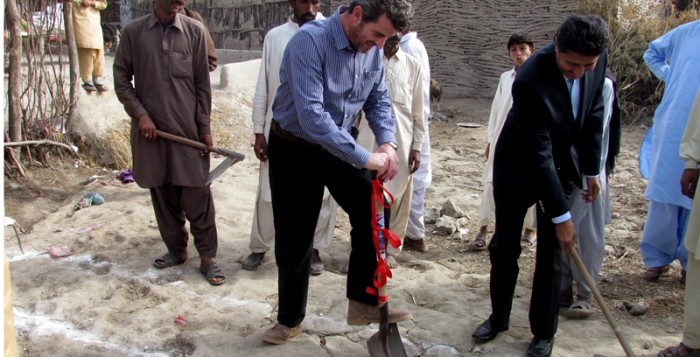 In a needs assessment conducted by CWS-P/A, the district of Thatta exhibited signs of being highly prone to various types of disasters. Recognizing the huge loss to housing during the 2010 floods, the organization initiated a housing project to support 500 flood affected families.
During mid-December, over one hundred people including national and local media, representatives of national and international nongovernmental organizations including UN-Habitat and UNDP, Deputy Commissioner and Assistant Commissioner of Thatta, and the local community attended the ground-breaking of CWS-P/A's housing project. The ceremony followed months of planning and coordination with the communities, the relevant government departments, the UN Early Recovery Group, and the focal person for the Shelter Cluster.
Aside from housing reconstruction, the project through its all-inclusive approach brings benefits to community members through capacity building initiatives. Since the new homes will have attached latrines and kitchens, health and hygiene sessions will be conducted throughout the duration of the project to ensure sanitation practices within communities. Over twenty-five training sessions have already been conducted on issues related to community based disaster risk management, community leadership and organization, and personal and communal hygiene. Additionally, cash for work opportunities will also enable communities to participate in the reconstruction of their houses through non-skilled labor.
While community members who by other means have been able to construct their houses will also benefit from cash for work activities. These interventions work to rehabilitate community infrastructure agreed upon by the whole community and at the same time give communities much needed income support. CWS-P/A planned the initiative in the same area where it runs construction trade training centers (CTTCs). For graduates who become certified in skilled trades and who have yet to find jobs, opportunities for employment with the contractor overseeing construction will be an added benefit for the community.
The house designs not only meet required standards but also have disaster risk reduction features and are compatible to local customs. The designs will further be incorporated into course learning for trainees at the CTTCs as well as part of the safer construction training with the mobile knowledge resource center (MKRC). Emphasis on the importance of and knowledge regarding reducing risks to disasters will occur when the MKRC visits these communities in early 2012.
CWS-P/A also ensured transparency with the community so that they are aware of what assistance they will receive. CWS-P/A believes community participation is essential and, therefore, established village committees so that they can take ownership of reconstruction and help identify the most vulnerable families in need of housing. From the village of Jumoo Adam Mallah, Ammi is the chairwoman of the village community based organization. Ammi recently shared that the new homes bring hope to families in the village and women appreciate that the homes have designs with WASH and kitchen facilities.