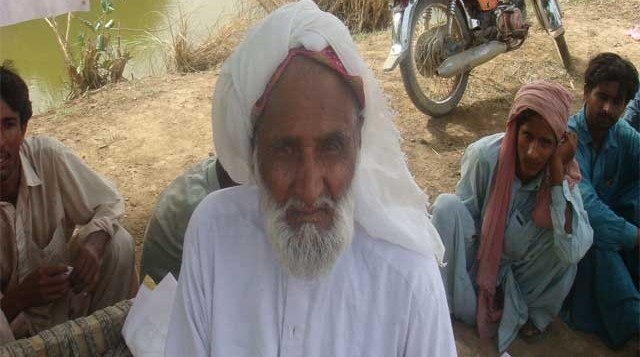 DERA MURAD JAMALI, NASEERABAD DISTRICT, PAKISTAN: The 4-wheeler crept on the bumpy kutcha (unpaved) road along Pat Feedar Canal that happens to be the lifeline of hundreds of thousands of people residing in Naseerabad District in Balochistan Province. It takes as much as two hours to cover 40 kilometers and reach Raees Mohammad Khan Waja Village where Church World Service-Pakistan-Afghanistan distributed goods to the families affected by the floods.
CWS-P/A's implementing partner's team had previously conducted an assessment and had reached the village along with distribution items. Hundreds of community members were sitting on the ground in an orderly manner, and some of them anxious for their turn. Among them, the most distinguished person was the 103 year old owner of the village, Raees Mohammad Khan. He is a simple, toothless person with friendly eyes; he wore wrinkled, white shalwar kameez and was seated on a wooden jute bed.
Asked how he is certain that he is 103 years old when almost everybody in the village is beyond time and space and cannot tell when they were born, Khan says he worked at different places, sometimes for a decade and sometimes more, and summed up his life periods and it became 103 years.
"I remember that Kirthar Canal was built in 1925-30," says Khan. "Jaffer Khan Jamali was arrested by British colonialists and shifted to Loralai," he recalls. "M.A. Jinnah was hired to fight his case, and he won the case. The colonialists had to release Jamali and his land was given to him," Khan adds.
Eighty-seven families were identified in the village for distribution of goods. Distribution through its organized nature ensures that the most deserving members are assisted. During the distribution, a woman came to the SPO team (CWS-P/A's implementing partner), showed her identity card, and had the items taken home by male family members. None of the community members have their exact date of birth on their identity cards. Only the year has been mentioned, indicating that somebody from the national registration office assessed their age.
"I bought land from Sardar Akhter Khan Umrani during the era of Zulfikar Ali Bhutto at the rate of Rupees 11,000 per acre (US$ 129)," says Khan.  "Today every block is valued at Rupees 2.6 million rupees (US$ 30,589)," he adds. "When I bought land, landlords were eager to sell their land. Today, they are eager to buy land," he says.
CWS-P/A has been conducting its relief operation in 11 union councils in Naseerabad District, and 4,200 families benefit from this distribution. The average family size in the area, according to 1998 census, is 7.9.
"God is great! God knows everything," says Khan. "I read Holy Quran and pray. I have also performed Hajj some 10 years ago. I also fast," says Khan with a sense of pride. He shares that his six daughters and two sons are all happily married.
This is not the first time the village flooded. According to Khan, the villagers have repeatedly suffered from floods throughout the years. Speaking on behalf of his village, he says, "You people should do something for us. We don't have a protective wall in our village, and whenever there is flooding, my village becomes submerged."