Assistance Continues in Sindh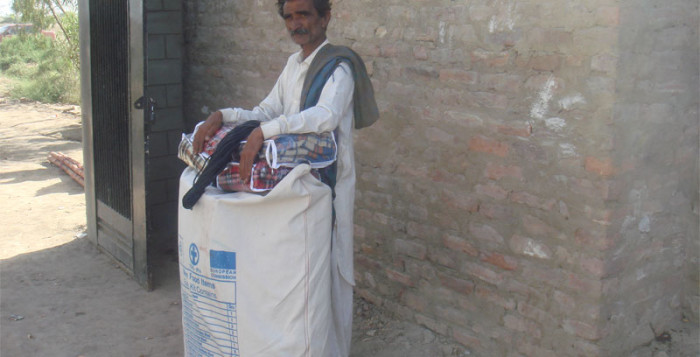 CWS-P/A's distribution of relief items following the 2011 floods in Sindh benefits approximately 163,000 individuals. Recently, the distribution of 1,075 shelter kits and non-food tems (NFI) packages reached 7,525 individuals from Jawariasor Union Council, Mirpurkhas. The distribution is almost complete, with the distribution of hygiene kits to take place over the coming weeks. In the flood-affected district of Mirpurkhas, farmers in some areas still face the challenge of inundated fields. Standing water, the lack of appropriate sanitation and shelter, and the inaccessibility to other basic needs increase concerns of the humanitarian community and continue to plague the flood-affected families, particularly related to health, food security, and protection issues. Due to lack of resources and the dearth of assistance from the Government or aid agencies, majority of the communities will face considerable risks in the upcoming 2012 monsoon season since they are unable to rebuild their homes properly.
The recent distribution provided much needed temporary shelter and NFIs for families across 85 villages. These villages were identified in coordination with OCHA and the local government. Through a thorough needs assessment and adhering to the criteria for identifying the most vulnerable families, CWS-P/A was able to prioritize women-led households, persons with disabilities, and others who met the criteria. Among the women-led households that received a shelter kits and NFIs in March is Sher Bano who was widowed during the 2011 floods. "At four o'clock in the morning, when water and heavy rains were entering our village and surrounding our homes, my husband told us to go with other families immediately and said he would follow behind us with some materials. I never knew this would be the last time we saw him." Sher Bano's husband did not heed cries for him to leave immediately, too, as he tried to collect important items from the home. He died immediately when the house collapsed upon him. Now a widow with a sixteen year old son and three younger daughters, Sher Bano owes money to their landlord from a debt existing prior to the floods and worries how her family will eat and survive. "We do not even have pure drinking water to use; we collect it from a hand pump far away."
In addition to ensuring that the most vulnerable families received assistance, CWS-P/A guaranteed the quality and accountability of its response. The distributed items were in accordance with Sphere standards applied on the local context. The distribution activities were planned and implemented in a way that preserved the dignity of each of the beneficiaries. CWS-P/A fully operationalized its Complaint Response Mechanism which included installing a complaints box at every distribution point as well as providing a Complaints phone number at the back of each distribution token to ensure the right to complain and to redress.
Nake, a laborer on agricultural land and father of six children, also received a shelter kit and NFI package from CWS-P/A. He described that the only other assistance he received was from his landlord who provided food to his and other families several days after they took refuge in a school building during the initial days. "We appreciate this help of temporary shelter kit. By using these bamboos and large plastic sheet, we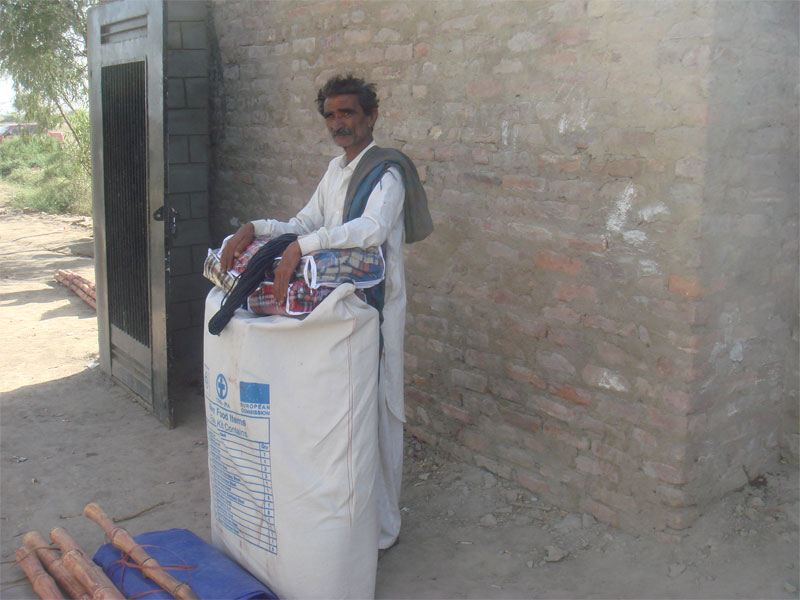 will be able to make a good sitting place, where my family can sit and rest. It's a great help for us in our homeless conditions." He also added that his wife and daughters were pleased to hear utensils are part of the kits at the time they received the token. Nake shared, "Now that I am getting the packages, they will see the utensils. We are very grateful to CWS-P/A for these relief packages you brought to us." Nake and others still face extreme conditions and obstacles to the road to recovery. He added that support is needed to help him overcome the longer term housing need and the food crisis.
CWS-P/A is committed to ensuring transparency and accountability and as such will be conducting a post-distribution monitoring/assessment to document its impact as well as to acquire learning for future distributions. The assessment will also highlight the immediate needs of communities so that further steps can be taken to help communities recover. The overall objectives of effective recovery must include the restoration of livelihoods, helping communities to access basic rights, and empowering them with the knowledge and resources to reduce their vulnerability and risks to disasters.