Alone against the Tide of Adversity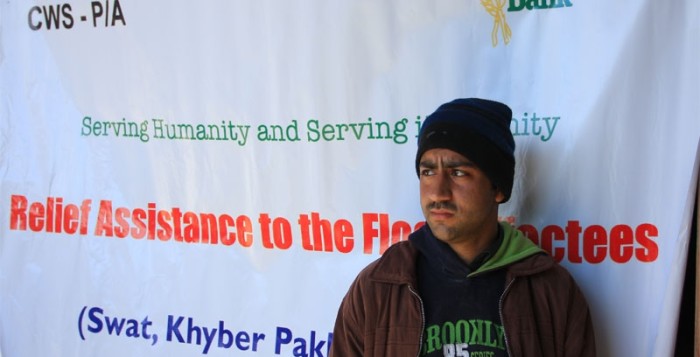 As far back as he remembers, Ibrahim, who is not yet twenty, saw his father Shah Mohammad running a modest restaurant in the bazaar at Bahrain. Wedged between the main north-south road through the valley and the parallel Swat River, the eatery was ideally located and tourists routinely stopped by for refreshments and meals. Every evening, Ibrahim's father brought home a neat little packet to the family in Torwal Village outside Bahrain and life was good.
Late in 2005, with the first signs of trouble in the once peaceful valley, Shah Mohammad whose health had been poor over the past several months, passed away from this life. As the man of the family, it devolved upon Ibrahim, then only fifteen, to fend for his aging grandfather, mother, and siblings. Though there were two older sisters (and three younger ones), in the strictly segregated society, they were no help as earning hands. Neither was the brother who had just started school at that time.
Ibrahim, then in the matriculation class, had harbored dreams of moving on to college to get a degree before joining the civil service. But with his father gone and with the burden of looking after the restaurant, it was no small miracle that he even finished school. With no experience of the business and because of his young age, the family decided to lease the eatery to a relative and have Ibrahim work there full-time as a partner.
The family had scarcely recovered from the shock of Shah Mohammad's death when the tourist inflow into Swat suddenly died in 2006. Even if they had not seen foreigners in Swat for a good few years, Pakistani tourists escaping the summer heat of the plains had kept the business profitable. Like everyone else engaged in the tourism trade and allied businesses, Ibrahim and his partner could not imagine that 2007 would see few visitors to Swat. That year the pall of terrorism came down heavy upon Swat.
Business dwindled; visitors to the restaurant being only local men who occasionally came in for a cup of tea were hardly enough to keep the business afloat. The year after was even worse and life seemed to have reached a dead end in 2009 when Swat was wracked by all-out war between the Pakistan army and the terrorists. From being well-off in the lifetime of Shah Mohammad, Ibrahim and his family saw poverty staring them in the face. But hope yet lived for Ibrahim believed that even the darkest night must end.
The army prevailed. Swat, the once prosperous and happy valley, was finally delivered from terror before the end of 2009. Ibrahim and his partner began to pick up the pieces of their shattered business. Even as spring turned to summer the following year, things looked up. As early as March, small groups of Pakistani tourists, curious to see the effects of life under terror, began to trickle into Swat. Summer break in educational institutions opened the floodgates, and Ibrahim thought it was all going to be business as usual.
But Providence had other plans. In the summer of 2010, Swat was not only to be flooded with tourists. The skies opened up one day in the last week of July. For three days it rained as if the second Deluge was upon the world. Fed by dozens of smaller torrents, the Swat River began to swell. The homes, businesses, and hotels sitting on its verge were the first to be swept away. On the second day of the downpour, it burst its banks.
Confined by the rain at home, Ibrahim was not at hand to watch his father's restaurant of nearly two decades carried away by the flood like a house of cards. Had he even known of the loss of the restaurant, precious little could Ibrahim have done. At that same moment, he and the rest of his family watched in helpless impotence as their own three-room brick and mortar home fell, piece by piece, to the torrents racing down from the slopes surrounding Torwal.
Getting away with only the clothes on their back, Ibrahim and his family considered themselves fortunate to have been spared any loss of life. Though there was a nagging fear for the safety of the eatery in Bahrain, Ibrahim hoped against hope that it, the family's sole source of income, would somehow have escaped the fury of the waters. But it turned out a futile hope.
From a reasonable life, Ibrahim's family was reduced to a state of homelessness and utter poverty. Moving in with a family whose home had escaped major damage, they lived off the charity of their neighbors. That, however, could not go on for long, and Ibrahim went to work in Bahrain as a daily wage earning laborer. Immediately following the flood, there was some work to be had as those who could afford to, were rebuilding their homes.
But, a wage of a mere three hundred and fifty rupees a day is far from enough to feed a family of nine, and they had to get on by one meal a day. In August, CWS-P/A, a member of the ACT Pakistan Forum, came to the fore in Swat, becoming the first NGO to provide food aid to the flood-shattered population. Even as he carted home his load of eighty kilograms of wheat flour, half as much of rice, some lentils, sugar, and tea, Ibrahim breathed easy. For one full month, the family lived off this aid while Ibrahim used his wages to purchase badly needed household goods.
The second installment of food aid planned by CWS-P/A for mid-winter may well have fallen short had Canadian Foodgrains Bank not come forward to support the effort. Early in February, with a week of rain and snow disrupting life in Swat, Ibrahim came to the Bagh Deri food distribution center for the second installment. He said bad weather had forestalled all activity and he had had no work for six days. His family, now in their own temporary shelter, had once again had to rely on the goodwill of their neighbors, themselves in difficult straits. The second installment of food aid by CWS-P/A had come just in time.
True, there were other organizations distributing food aid. "But small packets make no difference to large families," Ibrahim said. The package that he was preparing to take home was what would see his family through the month. Meanwhile, weather permitting he would be hard at work to bring home much-needed cash.
So, what of the future? Can he rebuild the restaurant? "We do not have enough money to buy food, how can we ever dream of rebuilding the restaurant when even the very ground where it stood has been washed away?" Ibrahim answers with his own question.
Ibrahim is not a quitter. He has pride, and he is a good man who works hard and who has not succumbed to despondency. The big question for him is how will he ever re-establish himself as a restaurateur?