Afghanistan: CWS-P/A Helps Establish National Effort to Reduce Disaster Risks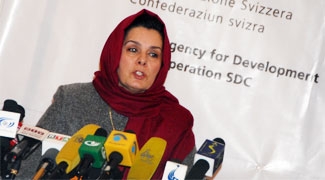 More than 50 Afghan government ministries, UN agencies, non-governmental organizations and donor governments gathered in Kabul on Sunday to launch the first Afghan national platform to reduce the risks of disasters in the country.
Over the past ten months, Church World Service – Pakistan/Afghanistan (CWS-P/A) has helped facilitate the process to form this disaster risk reduction (DRR) network through direct support to the Afghanistan National Disaster Management Authority (ANDMA), the Afghan government agency responsible for coordinating emergency response and disaster preparedness. CWS-P/A has long-time presence in Afghanistan, with offices and local staff providing emergency relief, health, and sustainable development programs that focus on increasing community-level capacities.
Speaking at the launch event, Karim Khalili, the second Vice President of Afghanistan, said, "The main objective of this launch is to alleviate the sufferings of the Afghan people by evolving a better response to disasters… Reducing the risk of disasters is a priority for the Afghan government and is in line with other key government objectives of providing security and socio-economic development for its people."
At this formational meeting, the platform initiated the development of a Strategic National Action Plan for integrating disaster risk reduction and climate change adaptation approaches, with technical support from the UN International Strategy for Disaster Reduction (UN/ISDR). This plan will be the "road map" for reducing losses from natural hazards and climate change, including losses in human lives and property, socio-cultural and economic assets, and environment and natural resources.
In a disaster-vulnerable region like Afghanistan, "Simple things – like prepositioned relief supplies and strengthening traditional early warning systems – can dramatically help to save lives when disasters strike," noted Takeshi Komino, CWS head of emergencies for Asia and the Pacific.
"Our goal working alongside the Afghanistan National Disaster Management Authority has been for the Afghan government ministries, UN agencies, NGOs, donors, academic institutions and even the private sector to come together on these risk reduction issues to make the country safer for the Afghan people."
The launching event was attended by more than 200 participants, including ministers from the Ministry of Labor and the Ministry of Rural Development.
Manoj Sinha, country director the the UN Development Programme, said, "The launch of the DRR platform is one of the most important institutional arrangements that have to be in place… UNDP is committed to providing technical assistance for building up the capacity of Afghans for disaster response and also help in evolving a comprehensive plan for DRR."
Created after a number of national consultative workshops and meetings held at ANDMA between April 2009 to January 2010, the new platform will serve as a national coordination and collaboration mechanism to promote a more disaster resilient Afghanistan. In addition, UN/ISDR has been one of the strong supporters throughout the process of establishing the initiative's platform.
"On behalf of ANDMA and Afghan government, I would like to thank all DRR stakeholders, including NGOs, UN, key line ministries and others for supporting smooth implementation of a DRR platform in this hazard prone country," said Dr. Adrak Matin, the general director ANDMA.
"I would like to thank both officially and unofficially especially Church World Service for facilitating this process for keeping this initiative alive."
In 2005, the Hyogo Framework for Action (HFA) adopted by 168 countries recommended the creation of national platforms to coordinate national disaster risk reduction policies and activities to substantially reduce disaster losses in the world. More than 52 countries have now adopted this multi-national stakeholder mechanism to facilitate the integration of disaster risk reduction into national development and planning policies. Afghanistan will now join the Hyogo Framework as the newest country to undertake this process.
CWS-P/A has led the HFA monitoring process in Afghanistan as part of the Global Network of Civil Society Organizations for Disaster Reduction.
Historically, Afghanistan has been regularly affected by droughts, earthquakes, avalanches, floods and landslides and is among the most prone disaster countries in South Central Asia. According to the Center for Research on the Epidemiology of Disasters, more than 4 million people were affected by drought, more than 1 million by floods and another 600,000 by earthquake impacts between 1900 and 2009.
Decades of war and civil conflict, as well as environmental degradation have further aggravated the Afghan vulnerability to disasters.
"We, together as one platform and one initiative, hope to achieve the ultimate goal of safer and more resilient Afghanistan together," said Dr. Matin.
###
Church World Service – Pakistan/Afghanistan is a member of the ACT Alliance, a global coalition of 90 local and international organizations working around the world to improve life for people in poverty. CWS-P/A is also a member of The Global Network of Civil Society Organizations for Disaster Reduction as a focal agency in Afghanistan.  The Global Network is an official civil society coalition with over 300 members across the globe with permanent seat at the Global Platform for Disaster Reduction.