Affirming the Rights of All to Live With Dignity and Justice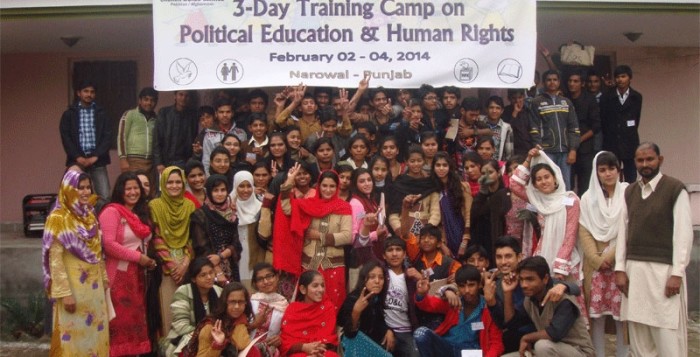 A three-day residential camp on Political Education and Human Rights was held for the first time in District Narowal, Punjab for private and government schools. After organizing several camps in Sindh since the year 2003, the political education program of CWS-P/A has not only extended operations in the province of Punjab but also organized several camps in schools of Afghanistan. District Narowal borders India therefore the community comprises of Muslims, Christians, Sikhs and Hindus. "We don't talk about the rights of fellow human beings, tolerance and dignity are missing from our lives. If someone has a difference of opinion, we term them an infidel and pass judgment against their lives and well being," shared one of the teachers from Government School Duska.
The training camp provided a platform for fifty students and ten teachers to understand the role of political and civic education in strengthening and developing societies, which have inculcated a sense of responsibility, rule of law, tolerance, peaceful co-existence and volunteerism amongst them. During the three days, sessions were conducted on state and democracy, election process, human and child rights, leadership skills, gender and sex. Students expressed their interest in the election process, balloting and child rights sessions. While discussing child rights, teachers were urged to conduct more trainings for government school teachers as the ratio of corporal punishments is high in the schools of Punjab. The camp also provided an opportunity to participants from diverse backgrounds and ethnicity to develop interfaith and inter-ethnic harmony through its participatory approach.
Eman Ali, a student of tenth grade shared that after attending this camp her perceptions about politics destroying lives were transformed since she was able to overcome her fears. Eman and her family shifted to Narowal after a rival party killed her uncle who was a politician and then started threatening them. She now also wishes to enter into politics to work for the prosperity and rights of girls of Narowal. "Women should be encouraged to enter politics. And through this camp I learnt the meaning of being tolerant and have made new friends regardless of their religious beliefs," she smiles and tells us.