Advancing Technical Skills in the Development Sector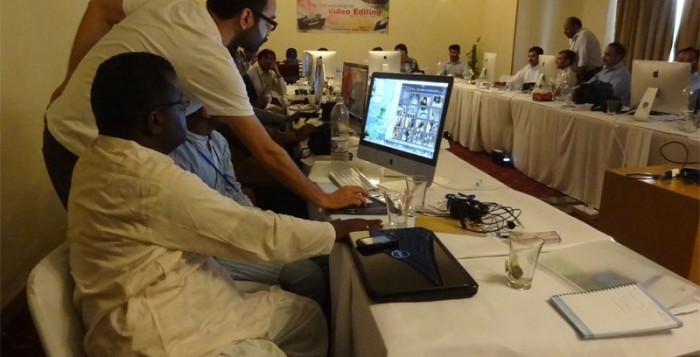 CWS-P/A's Capacity Institutionalization Program continues to offer tailor-made trainings, well-structured courses, and capacity building interventions to humanitarian workers in Pakistan and Afghanistan. These opportunities strengthen skills and allow increased learning and sharing that helps development as organizations work to enhance their effectiveness and transparency.
In February, CWS-P/A concluded a successful six-week course on communications strategies for humanitarian workers. The course also led to identifying other capacity building needs among them. The need for a workshop on video editing was identified to help participants gain specific skills to edit video clippings.
In mid-May, a workshop on video editing was held in Lahore, Pakistan. The workshop engaged participants who learned different tools in editing software. More specifically, they learned the editing process by importing footage and exporting the finished video. This also included editing sound by dealing with audio and videos as separate layers. During the workshop, participants worked with raw video clips and converted them to eleven documentaries.
Additionally, the workshop was followed by a two-week online support period. The participants of the workshop engaged with the facilitator as they applied the newly acquired knowledge in their workplaces.
While many of the participants had attended the Communication Strategy Course, the facilitator shared, "I can see that the participants of the Communication Strategy Course remember the techniques and knowledge they learned in the course and have been practicing them after the workshop. I can clearly see them applying the skills to the video making process by looking at their products. It is great to know that our participants did not forget their learning and tried to maintain them by practicing even after the workshop."
One of the participants, Mohammad Yousif Sani shared that he learned a lot from the training. He said that once he was back at his office, he would try his best to prove what he has learned is very important in communication and advocacy. Another participant mentioned that the cut-away technique and the use of background sound as a theme was a vital learning, which will help to produce the most effective visual effects outputs.