Advancing Quality and Accountability in Pakistan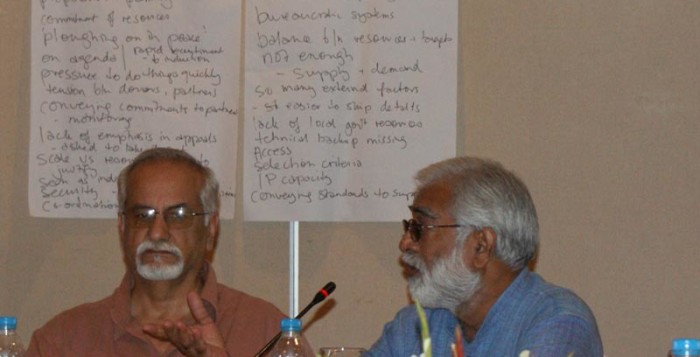 Church World Service-Pakistan/Afghanistan believes it is imperative to assess the full extent to which humanitarian organizations are committed to applying quality and accountability, the challenges they face in its application, and how to move forward in a more collaborative and strategic way on the issue.  In view of this, CWS-P/A hosted a half day round table meeting on September 24, 2010 in Islamabad for selected agencies that are actively involved in shaping the flood emergency response. In order to ensure effectiveness of discussions and future actions, the meeting targeted decision makers at policy level.
The attendees offered insight into their experiences, challenges, and suggestions for advancing quality and accountability within Pakistan. An objective of the meeting was to strengthen commitment to quality and accountability and agree upon a strategy for collaborative initiatives; however, one of the successes of the meeting was that representatives from various organizations came with a sincere interest and dedication toward quality and accountability. This existing commitment enabled the group discussion to produce sound examples, real challenges, and feasible suggestions for future action. CWS-P/A recognizes the following organizations that sent representatives: TROCAIRE, CONCERN, SUNGI, MERLIN, WHO, INTERNATIONAL FEDERATION OF RED CROSS AND RED CRESCENT SOCIETIES, HAP GENEVA, ISLAMIC RELIEF,  FULL GOSPEL ASSEMBLY OF PAKISTAN, PMU INTERLIFE, OXFAM GB, SAVE THE CHILDREN, CARE INTERNATIONAL, WORLD VISION, NORWEGIAN CHURCH AID, WFP, PILER, and SSEWA-PAK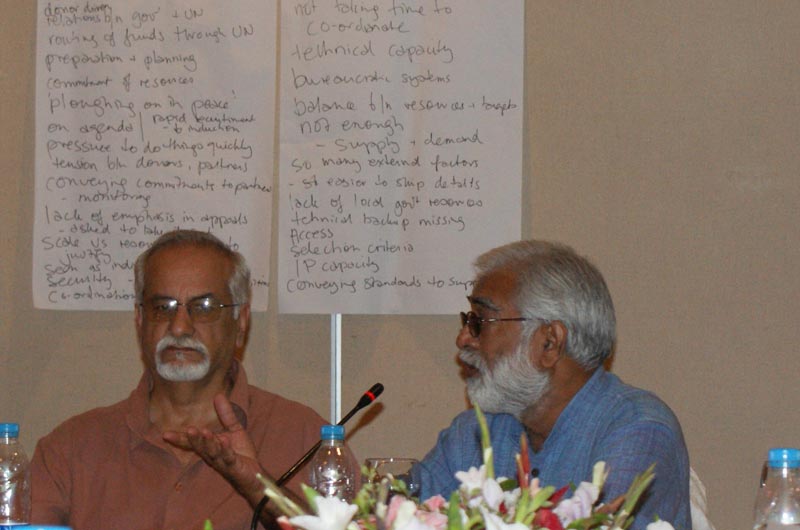 During discussion of what various organizations are currently doing to ensure quality and accountability within their flood response initiatives, several organizations emphasized two important aspects: complaints mechanism and standardization at the implementing partner level. An opportunity now exists for organizations to share their methods and experiences so that other organizations can also benefit from lessons learned and good examples. In the future, possible collaboration could help make these quality and accountability initiatives more easily understood and utilized within affected communities. Barb Wigley from HAP Geneva warned that too much uniformity could hinder the flexibility required to meet individual communities' needs. Although creating a uniform approach is not practical as it decreases the flexibility required to meet individual community needs, similar mechanisms and approaches can be developed by organizations working with the same communities or local partners. These were only two aspects; other valuable examples benefited participants. Shazad from CARE International shared, "I am already working on quality and accountability. I was at one distribution and asked a beneficiary if he knew how to use the items in the hygiene kit; he said no. Now, we have started educating recipients on how to use the items we are distributing. I am also working on some strategy for implementing quality and accountability. I will incorporate the points shared today that I find relevant into my plans."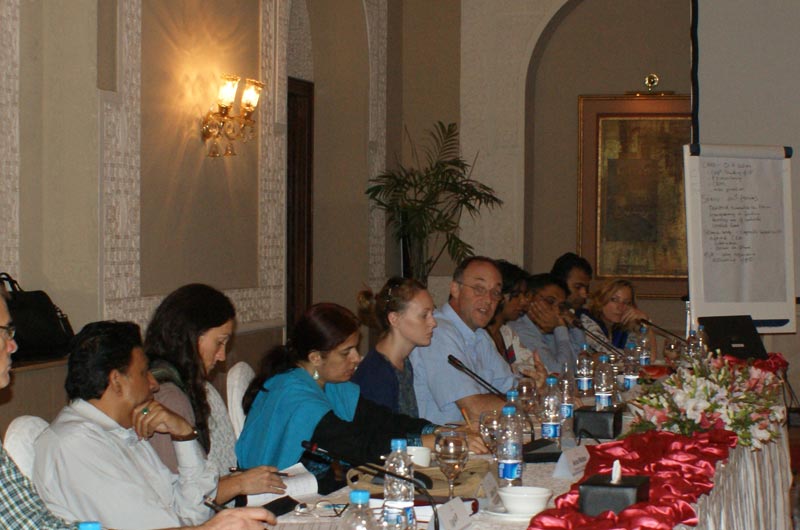 Future collaboration and awareness among other key stakeholders could resolve some of the challenges shared. Planning and commitment for quality and accountability exist with organizations; however, they face challenges due to lack of resources or understanding from donors. One organization stated that a donor insisted they remove the quality and accountability section from their proposal. Other participants said it is difficult to convince donors that quality and accountability is important when a severe lack of funds for tangible relief items exits. It was also mentioned that quality and accountability is lacking in the UN appeal whereas if it was a part of the appeal, more attention could be placed at the donor, government, and implementation level. Future collaboration to raise awareness on the importance of quality and accountability and the fact that it directly improves services and aid delivery to the affected communities could minimize these challenges. Other important challenges were discussed although immediate solution is unlikely. One issue several organizations mentioned is that ensuring quality is difficult because one standard is agreed upon, but at the time of delivery, suppliers provide something else. Security concerns are also prevalent in Pakistan and pose challenges to many humanitarian initiatives including quality and accountability.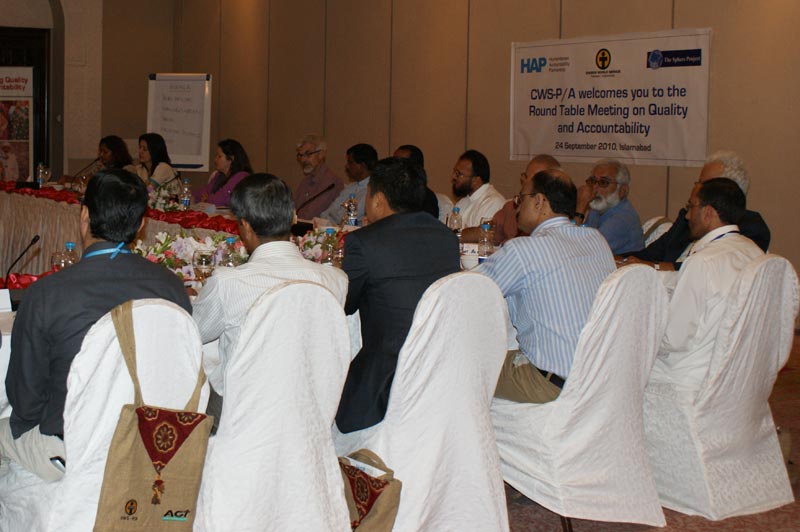 Although many of challenges are commonly agreed upon by participating organizations, a formal, written document of the challenges to quality and accountability is lacking. An in-depth analysis and ongoing formal discussion of the challenges and successes need to be undertaken. On September 1, 2010, CWS-P/A initiated a six-month research that entails a qualitative method for gauging the level of quality and accountability observance by a minimum of thirty organizations. This research will provide needed insight so that a comprehensive approach to quality and accountability based upon real communities and organizations within Pakistan will be possible.
An important discussion also took place that quality and accountability is not the only area in which organizations face challenges. It is equally important to focus on other issues such as consequences from this emergency including fear of famine, conflict from land demarcation, and lack of willingness of landless to return from larger cities. Addressing and planning for these challenges is beyond the capacity of the government alone, and responding organizations should be know that accountability also entails planning for future needs of affected communities in addition to their immediate needs.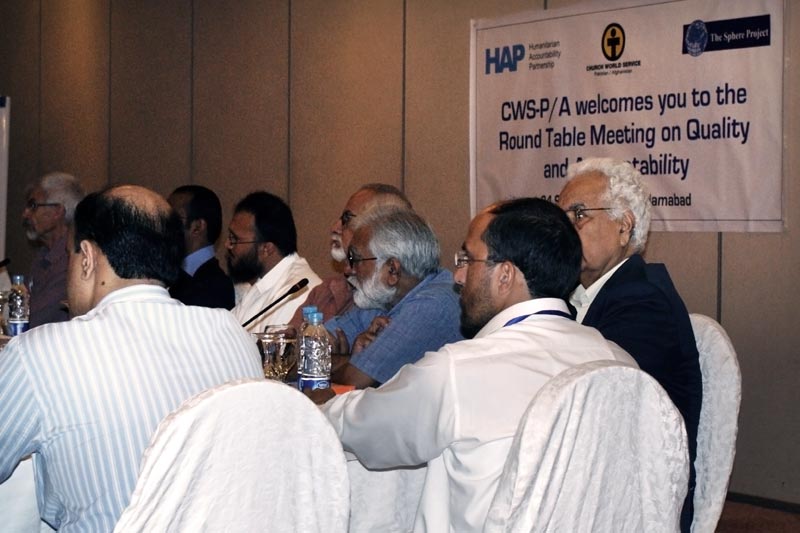 The round table meeting was not only successful in bring voices together at one platform it solidified the understanding and importance of quality and accountability during emergency response and beyond. The organizations have committed to more collaborative agendas and actions. Some suggestions such as permanently including quality and accountability on agendas of existing forums such as cluster meetings, Pakistan Humanitarian Forum, and government meetings will strengthen attention to the issue. Also, the personal commitment of individual participants of the meeting to address an example or challenge during other meetings they attend will also raise awareness and keep quality and accountability in the foreground. Information, material, and success sharing will also help continue the discussion and benefit participating organizations. More ambitious ideas such as having a national Humanitarian Accountability Framework and pushing for socioeconomic policy changes will take a longer time and face more obstacles; however, steps in the right direction can eventually lead to an advanced approach toward quality and accountability within Pakistan.
The meeting also opened an avenue for organizations which lack resources or technical expertise dedicated to quality and accountability to explore opportunities for collaboration. CWS-P/A offered its continued support to helping organizations with capacity building, technical assistance, and materials related to quality and accountability including HAP material and English and Urdu editions of the Sphere Handbook. Zainab Raza from CWS-P/A made the closing statements. A very powerful and important observation was shared which encouraged participants to work toward collaboration after the meeting. "We learned from our experiences during the earthquake that many meetings took place and coordination forums. The Q&A agenda was not formally put up at that time but issues were highlighted. When we go back to those earthquake affected communities, the issues during 2005 still remain unaddressed. The critical thing we need to think about is how to strategize to coordinate so that when we meet during another disaster, we don't find the same unresolved issues."