Addressing Water Scarcity: The Earth Box Experiment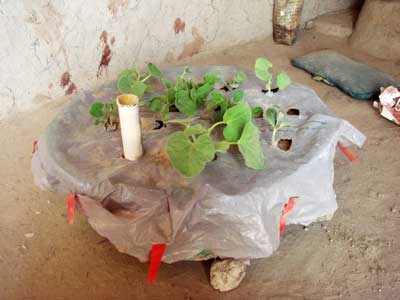 The districts of Mirpurkhas and Umerkot located in the province of Sindh have repeatedly experienced prolonged periods of drought. Potable water remains scarce and drinking water from wells has gradually decreased due to lack of rainfall. Climate conditions have caused additional hardships for the residents of these regions thereby affecting their socioeconomic activities. As male family members migrate for work to other areas, women tend to be the worst hit due to their cultural and economic positioning.
Reduced water supply has resulted in lower agricultural and livestock production which are the primary means of subsistence for farmers and their families. For approximately three years, CWS-P/A has worked to improve the livelihood opportunities for the people of Mirpurkhas and Umerkot through securing food and empowering women to become self-sufficient.
CWS-P/A and its local partner explore innovative solutions to help the communities overcome the challenges they face. Six months ago, CWS-P/A's Social Development Program and SSEWA-Pak initiated an earth box technology experiment in the two districts. In addition to promoting water conservation and efficient use of irrigation water, the earth box improves nutrition at the household level by providing easy access to a variety of homegrown vegetables.
"This concept is used in some parts of the West, and I was eager to make it after being shown the idea. This is the first time an experiment like this has been done in Pakistan," shares Mr. Madan, a farming expert at SSEWA-Pak's field office.
If successful, this technology can be a cost-effective method of addressing water scarcity issues in Sindh. Unlike other techniques such as drip irrigation and pitcher irrigation, the earth box is easy and less expensive to construct and maintain. Drip irrigation can cost as much as USD 1,200 for one acre; however, an earth box can be made with local products at an approximate cost of USD 6.
The ongoing experiment involves one hundred women belonging to various villages. The initial construction of the earth box at SSEWA-Pak included a plastic container (tub), aeration screen (cut from a lid of a water container), soil aeration tube (PVC pipes – 1.5 inches), water filling tube, mulch cover (plastic sheet), cutter (blade), soil, seeds, and fertilizer. During training, the women were shown a variety of substitute materials that can be used to construct the earth box. "I knew that women would get creative and use the ideas once they were shown the technique of making an earth box," says Mr. Madan. "This simple, self-watering container is easy to make; it does not require much maintenance and allows for the growth of multiple vegetables."
Referred to as a self-watering container because of less water requirements (one liter of water every 15 days) the earth box also proves to be advantageous since it only needs 10 to 15 grams of fertilizer for an entire planting season. In addition, the mobile nature of the earth box is most certainly an added advantage to poor communities who do not own land.
Bagi residing in Geo Rabbari Village shares, "The earth box will help me because I can provide my family with fresh vegetables. At present, I am hoping and praying to God that the water situation improves because I do not want the plants to wither. We have little water and it is difficult to make the plants survive during periods of drought." Using a bucket and a half-cut Jerry can, Bagi with the help of her relatives constructed two earth boxes. The family planted bitter gourd, squash, and cluster beans in their earth boxes.
"I found the earth box easy to make after I attended the training," says Bagi. "I also find it easy to maintain because much of my time is spent in taking care of my four children."
From Prem Nagar Village, Tazoo shares, "When I heard about the earth box from the trainers I felt it was going to be difficult to construct but now I do not think it is. My main concern is the water shortage that our village is facing because of which I have paid little attention to the earth box. We receive brackish water and this has been harmful for the plants."
Bagi and Tazoo like many of the other residents await rainfall in these severely drought affected regions of Mirpurkhas and Umerkot so they can take care of their earth boxes. The women who are part of the experiment feel that even with nature's odds against them, the earth box is beneficial and can potentially help improve their nutritional intake and save money while conserving water.