Addressing Health Needs of IDPs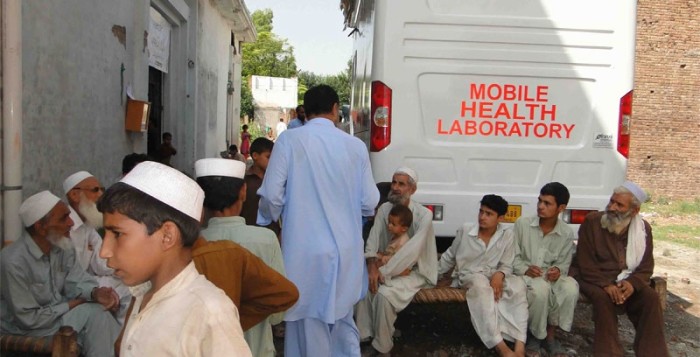 In August, CWS-P/A began health assistance for the displaced population in Peshawar District, Khyber Pakhtunkhwa Province (KPK) and its surrounding areas. Access to basic facilities has undoubtedly been challenging for many of the displaced families, particularly for women and children. With low wages from daily labor, families face ongoing hardships in accessing many of their needs. Presently, CWS-P/A provides assistance through the operation of two hydraulic mobile health units (HMHUs), one mobile health unit (MHU), one mobile laboratory unit (MLU), and one ambulance. Due to the overwhelming need, the health team provided more than 3,280 health consultations in less than one month's time. Women and children constitute 70% of the patients. Approximately 850 children under the age of five received treatment while antenatal and postnatal consultations were provided to 250 and 120 women, respectively.
A health specialist from the field shares that the most common diseases are diarrhea, skin infections, and upper respiratory tract infections. More significantly, through the operation of the MLU chronic diseases like diabetes and tuberculosis are being diagnosed. For many of these individuals, it is a first-time diagnosis. The high costs associated with private laboratories are beyond reach for the average family; for this reason, tests that could have identified these chronic diseases earlier were never obtained. The MLU provides the tests free of cost, which results in life-improving and life-saving recommendations for certain diagnoses. The most common tests include typhoid, diabetes, tuberculosis, pregnancy, blood screening, hepatitis B and C, and malaria.
Additionally, more than 600 individuals participated in health education sessions on ante and postnatal care, HIV&AIDS, and prevention from waterborne diseases like cholera, gastroenteritis, typhoid, polio, and hepatitis. Through these sessions, CWS-P/A aims to help individuals improve their awareness and take preventive measures while reducing the overall risks for outbreaks in the community.
CWS-P/A's comprehensive health services help address the immediate needs of the displaced population. These health services will continue until November; however, CWS-P/A recognizes that as long as the existing community health facilities cannot meet the needs of the displaced population, the IDPs will need health assistance. The organization hopes to continue these services.