Abdul Wali's Story: A Lone Tree Left Standing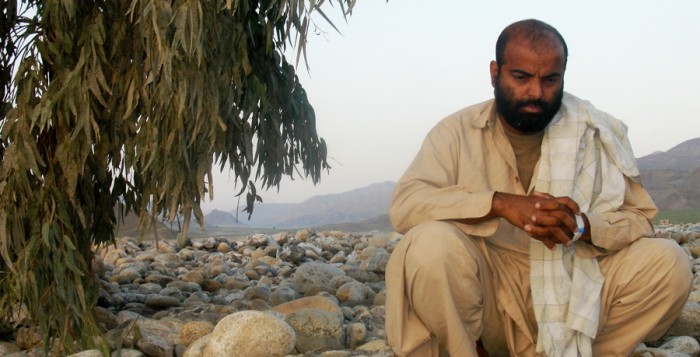 KABUL PROVINCE, AFGHANISTAN: Sitting amidst the rubble left by a flash flood on August 3, 2013, Abdul Wali, 30, recounts how he lost everything except a lone tree in the middle of his land. At 7:30 am, he awoke to a loud noise which was caused as a gush of water broke his front gate, entered his yard, and surrounded his house. "I shouted to all my family members to get out of the house. I reached dry land and was soon followed by my brother Nawab Khan."
Heavy rain poured down around them. "I watched as all the walls of my house fell down when a flash flood washed them away. I was returning to rescue my mother from the house. I was able to rescue her. At the same time, Nawab Khan's wife was returning to collect belongings from the house. My brother had called out to her to bring the money box. The children were running behind their mother, and the flash flood washed all of them away.
"As Nawab Khan saw what was happening, he ran to try to save his family members. He, too, was washed away by the flood. Trying to save him, I was also washed away by the flood. About five kilometers away, Nawab Khan broke his leg as he was caught by a tree. He was rescued by helicopter. I was washed away about 10 kilometers to the Sarobi bazaar. I was injured so I was taken to the hospital in Kabul and returned to my home the next day."
It took only a few minutes for the family to lose everything. "I lost fourteen family members including my two children, two brothers, two of my brothers' wives, and eight nieces and nephews. I lost eight rooms, three cows, three calves, two goats, three sheep, and all food, utensils, other belongings, and more than one hundred fruit and other trees. Only one tree is left standing. My house and agricultural land has changed into a dry riverbed. You can see there is no house there anymore."
Abdul Wali is from Surchushma Village, Sarobi District, which is one of the areas severely affected by the recent floods in Afghanistan. He, his wife, and surviving child have a very difficult time ahead. Without their house, agricultural land, livestock, and other basic necessities, it will take a long time to recover.
The families affected by the recent floods require immediate access to shelter, food, and non-food items. For longer-term recovery, they will need to rebuild their houses and livelihoods. Rebuilding in the same way will not, however, prevent future losses if another disaster strikes. This is a crucial time to increase awareness on disaster risk reduction. At the family and community level, techniques such as safe evacuation, safer housing construction, and community hazard mapping will greatly minimize the risks from disasters and empowering communities with this knowledge will save lives and property in the future.