A Step in the Right Direction: Increasing Quality and Accountability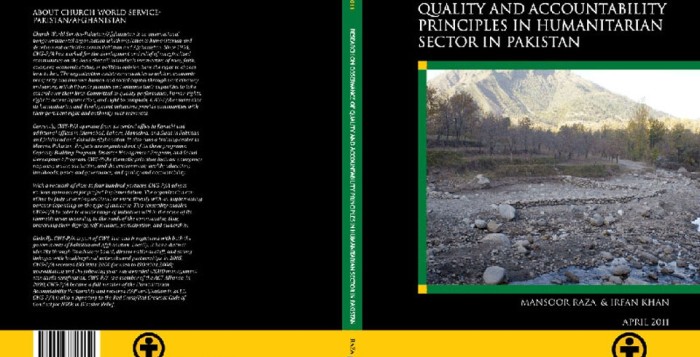 ISLAMABAD, PAKISTAN: Co-authored by Mansoor Raza and Irfan Khan, Church World Service-Pakistan/Afghanistan's research on quality and accountability in the humanitarian sector is the first of its kind conducted in Pakistan. With increasing pressure from donors and responsibilities to beneficiaries the issue of quality and accountability remains crucial while CWS-P/A's research stems from the role which the organization plays in the quality and accountability discourse; locally, regionally, and globally. CWS-P/A is committed to the standards set by the Sphere Project, an initiative that promotes standards by which to respond to the plight of people affected by disasters, and is also certified under Humanitarian Accountability Partnership (HAP) and conducts HAP trainings for other humanitarian organizations in the Asia South Pacific region.
The research highlights the necessity of quality and accountability for effective humanitarian work. Using the 2010 floods in Pakistan as a case study, CWS-P/A emphasizes the specific need for improving quality and accountability standards within the disaster response and recovery context. At the same time keeping in view its ever-increasing need as countries in the region face an unprecedented scale of natural disasters.
Furthermore the research revolves around two key questions; what can be currently observed of quality and accountability and what factors enable quality and accountability within the humanitarian sector. Consisting of stakeholder interviews and secondary data the research constructs a commonality framework containing components of quality and accountability principles under the benchmarks of HAP and Sphere standards. This framework highlights some of the research's main findings; quality and accountability being hampered by a lack of recorded information and national hazard and vulnerability mapping, "one-size-fits-all" approaches, the exclusion of minorities, poor complaints handling, and a lack of quality and accountability training for the influx of aid workers in an emergency context.
Despite lacking the specific vernacular, many small NGOs have implemented systems which take into account necessary principles of quality and accountability. As recommendations the research suggests that as disasters continue to increase in frequency quality and accountability should be more largely incorporated in disaster response and recovery. In order to increase access to quality and accountability awareness the research also recommends more pictorial representation as opposed to written. Finally, in order to ensure across the board standards the research emphasizes the necessity of an umbrella coordination group for the purpose of sharing learning and increasing outreach.
The launching ceremony which took place on June 29, 2011 in Islamabad, provided guests with a full scope on perspectives on quality and accountability with key note speakers, Joanne Simpson from DFID and Fawad Hussain from UN OCHA. Simpson presented the donor perspective, while Fawad spoke to the role of quality and accountability in large international NGOs. Both perspectives along with author, Mansoor Raza's presentation prompted comments and questions as to the future of quality and accountability within the humanitarian sector.
How would universal standards impact gender and minority issues in disaster response and recovery management? Would the creation of a centralized panel for quality and accountability increase its presence in the humanitarian sector? How can this research impact the capacity of small, local non-government organizations? How can this research be applied with a global perspective on quality and accountability in the humanitarian sector?
With questions raised, and no easy answers, it is clear to see that this new research is a step in the right direction as the process of increasing quality and accountability in the humanitarian sector remains ongoing.