A Plea for the Women of Bara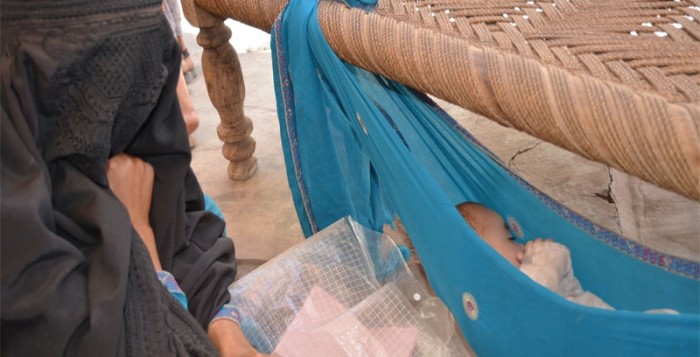 Thousands of internally displaced persons (IDPs) from conflict-hit Khyber Agency have been experiencing increased hardship as temperatures begin to escalate in host cities. This time of the year is particularly hard on the displaced population as they currently survive on minimal resources and the summer's scorching heat is merciless to their hopeless cries. Women and children are more susceptible to adverse impacts of this lethal combination of Pakistan's extreme summer and poor living conditions as they make the majority of the IDPs from Bara district.
Despite aid from the international humanitarian community and local government assistance for the IDPs in Khyber Pakhtunkhwa (KPK), the poor conditions of the displaced community speaks volumes about their continuous sufferings and growing needs. It is hard to imagine life in tents or makeshift accommodations with no electricity coupled with hostile weather and poor amenities. Whether living in or off camp, the displaced people are subject to innumerable difficulties, and women often tend to become the most impacted group in such situations considering their subjection to the added cultural, physical, and social dilemmas active in the country.
Women have fled their homes without their belongings and their livestock. With little money in their pockets and entire families uprooted, they have literally arrived empty-handed to these host cities in central KPK. In Bara District where their life was sufficiently pleasant—living in their own spacious houses, surrounded by family and relatives, and having their own cattle to feed them, their life after displacement is not far from sheer misery. These women, along with their families, have resorted to live on camps or at whatever rented accommodation that they can afford. These rented houses lack proper water and sanitation facilities. Most houses consist of one latrine regardless of the number of rooms it lodges, catch no or limited electricity, have a limited water supply, and are in some cases deficient of windows. In addition to this living scenario, one must not forget that these displaced people have fled their homes in an emergency and, therefore, are at this point without beds, blankets, cooking utensils, sufficient clothes, and all other basic household requirements. Moreover, something as basic as cooking has also become troublesome for many internally displaced women in Khyber Pakhtunkhwa. They require firewood because gas in unavailable to them. Although they are accustomed to cooking with firewood, it needs to be fetched from nearby places outside their houses. Because they are not allowed to leave their homes, they have to wait for the men or boys of the house to bring them. This prolongs and delays their cooking time. For a woman to live in these conditions and satisfy all members of her family which she considers as her moral duty in this part of the country, it is exceptionally hard.
Keeping in mind that most of the IDPs living off-camp are paying hefty rents for accommodation, they are left with limited finances for health care and nutrition. Many of the women from Bara are suffering from gynecological illnesses, depression, and undernourishment but they do not have access to or the finances for proper health care facilities. In most cases, the women forego their meals so that the men and the children of the house eat better and get a bigger portion of the meal. For months these mothers, wives, daughters, and sisters have been sacrificing their vital needs and surviving on tiny meals consisting mostly of black tea, bread, and vegetables. "The last time we had meat was on Eid-ul-Adha. Since then we have been surviving on pulses and potatoes. Our stomachs are not well now," said an ageing Bus Khid Bibi from Bara Tehsil. She has been living in a 3 bedroom rented accommodation with 17 other family members since displacement in mid 2011. Women from these conflict laden areas were used to consuming milk and certain amounts of protein from their farming animals, and the absence of these two vital nutritional items puts a great strain on their already deteriorating physical condition.
Speaking of sacrifices, these women have not only been sacrificing in terms of food but have also been ignoring their health needs. They would rather spend money on doctors' fee for their children or the men of the house who are the income bearers than on themselves. With the few household items that they have or if they have, such as blankets, beds, or fans, they habitually let their children, the elders, or their husbands use them. Even the limited water that they borrow in most cases from neighbors in host communities is used up on bathing children, washing cooking utensils, or the limited clothes that they own now. "We clean ourselves whenever enough water is left back from household usage. I mostly shower once in a week and my children bath between 2-3 times in a week," said Sabia, a young mother of six children. Sabia has been living off-camp ever since their family's displacement seven months ago. She heads her household as her husband is suffering from lung and kidney illness and does not earn an income. Her brother pays their present house rent as she has no other source of income. She has chosen to live off-camp because she has five young daughters with whom living on camp would expose them to thousands of unknown men which would be inappropriate.
"Bara was our own place, with our people. Life was good and it went on. Here we know no one and no one knows us," remembered a still light-hearted Sabia. Like many other women from Bara, Sabia and her daughters were used to moving around in their village. They took care of their livestock, worked on their agricultural lands, and visited relatives that lived nearby. All these women were used to close-knit neighborhoods where they socialized and discussed their problems if they had any. Sabia's daughters even attended the public school for girls in their village. However, in the current displacement most of these women are confined to their home due to the cultural norm of privacy and pardah which further leads them to depression and does not allow them to escape the psychological trauma that they have experienced during the conflict and displacement period. To add to this, many children living in these situations are no longer motivated to attend schools even if they have the opportunity to, which further stress their mothers about their future prospects. Children in such cases naturally demand from their mothers, while the mothers living in these conditions have nothing to entertain or console them with.
"When I think about my children and for how long we will have to live here, it really worries me. I pray that this difficult time passes soon and we return to our homeland," expressed Salim Jana, a 36 year old mother of four living with her parents in a host village in Peshawar, KPK. It is heartrending but true to state that many women from Bara share the same emotions as Salim Jana's, and we the humanitarian community must do everything in our capacity to minimize their tribulations if we cannot totally free them of it.