A Mother Discovers Medical Assistance Through CWS-P/A's Mobile Health Unit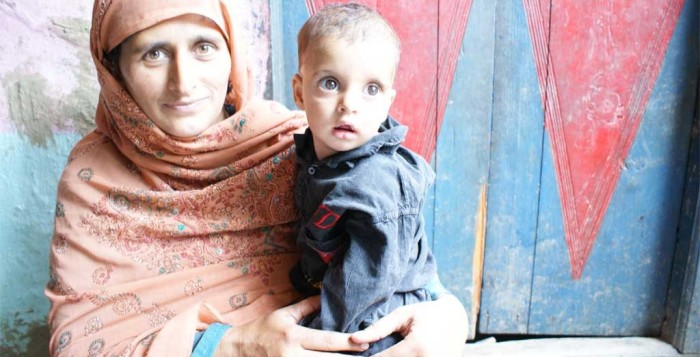 "Those with money survive as they can go to private hospitals and doctors, but where do we go because we have lost everything?" says Dilshad Sultan, a mother of five children residing in Mohandari in the province of Khyber Pakhtunkhwa where the worst floods in Pakistan's history began. Church World Service-Pakistan/Afghanistan is providing the most vulnerable families affected by the floods with food, non-food items including shelter materials, and healthcare facilities.
Dilshad and her family now live across the street from CWS-P/A's mobile health unit in a tent they received as relief assistance in 2005 when their house collapsed as a result of the 7.6 magnitude earthquake. History has repeated itself, once again, for Dilshad, her family, and many others in the region.
 
High risk for infants and mothers
 
The floods which began in late July have left millions homeless affecting as many as six million children. High risk exists for deaths among infants and mothers who remain without proper health facilities in Balakot – a sub-division of Mansehra District in Khyber Pakhtunkhwa. About two-thirds of Balakot Tehsil Headquarter Hospital which meets the health needs of around 300,000 people residing along the Kaghan Naran Valley was destroyed by the floodwaters. There remains no doubt that the needs of the people of Pakistan are great at this time of such widespread devastation. Through CWS-P/A's mobile health unit, Dilshad and her children receive medical assistance.
The Floods washed away our home
She shares, "I was told by my father who had seen the banner to take the children for treatment. Four of them are suffering from skin disease, and this is my second visit here with my nine-month old baby boy, Hamza. My husband is a road construction worker and does not have work always. When the floods washed away our home, we stayed without food for two days. Now, we are buying food with the little money we have in order to survive, but our greatest worry is that we have no place to call home." At present, CWS-P/A is operating three mobile health units along with six basic health units in Mansehra, Swat, and Kohistan by providing preventive and curative health services. While two additional mobile health units are planned in Khairpur and Sukkur in Sindh.
Worrying about winter
"At night I cannot sleep thinking that winter is approaching, and I worry about my children because we are without proper shelter. The health facility has made me feel a bit better because we have access to treatment. It is only when a family member is in their last stage that we go to a hospital in Mansehra or Abbottabad by borrowing money," says Dilshad. CWS-P/A health workers report that the most common diseases after the floods have been acute watery diarrhea, gastroenteritis, skin and eye infections and upper respiratory tract infections. Dr. Qamar Zaman, CWS-P/A's Medical Coordinator, shares, "Snow begins as early as October in parts of the north. Winter is approaching, and with freezing temperatures, the number of cases of lower respiratory tract infection increase."
No doubt exists that communities affected by the floods have extensive needs. Adequate shelter, blankets, warm clothes, and other winterization items are immediately required to help the affected population survive the harsh winter. CWS-P/A continues to plan for early recovery assistance to help communities restore their lives. Planned areas of intervention include cash for work, vouchers and cash grants for livelihood assistance, health services, and capacity building initiatives.