A Father and Son Keep on Living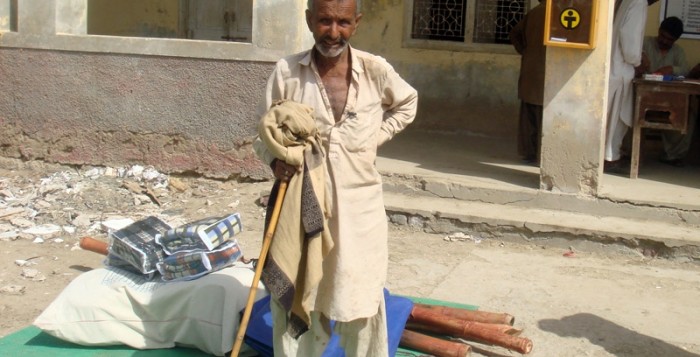 Sitting under a shade at the distribution site in Mirpurkhas, Achar was found talking with other men from his village. The sixty-two year old immediately stood when asked if he would take some time to share his story. A short distance from the shade in a separate room of the Bachal Khas Khelli School he was interviewed. Shahid Khan, a project officer from CWS-P/A, described how Achar was interested to learn more about who was providing aid to him. "I gave a brief description of CWS-P/A's work and about myself. Hearing that I came all the way from Karachi to his village, he recalled his young life and his work in Karachi forty years ago. Achar said how he heard from others that Karachi is changed now."

Achar shared his sadness that since his wife died a year and a half ago he lives with his only son. It was about a year after his wife's death that the floods of 2011 took everything else away from him. "When the floodwater entered our village, we [Achar and his son] left for a [elevated] highway which is 1.5 kilometers from my home. We stayed there [the roadside] for about fifteen days. While there I received a food ration one time from either the government or an NGO." He could not recall accurately who provided the food but described, "It contained 40 kilograms of wheat flour, and then there was nothing.
"After fifteen days we and other villagers returned to our house, but our village was flooded and unfit for living. We went to a relative's house in Jamsabad about 40 kilometers away from my village. There we stayed for two months in very miserable conditions.
"Finally, my son decided we should return to our village, where we are in extreme conditions, but we have no alternative."
Prior to the floods, Achar's son cultivated cotton and chili on five acres of land that he rented from a local landlord. In addition to the land, they lost two goats, household items, clothes, and their two-room house during the floods. They also lost some stored food and seeds. "Now, we have returned the land to the landlord as it is difficult for us to carry on as the agricultural land is half under water and losing cropping capacity. My son is a day laborer now, and he only earns 100 to 150 rupees (USD 1.12-1.68). We have no shelter to live in, and we are barely surviving now."
Although he wishes he could do more, he explained, "I lost my capacity to work. As long as my eyes could see, I could do some work. As the days pass, my eyesight is weakening and I cannot see properly. At night, I am totally blind." He mentioned that he had visited a hospital but had no money to pay for the treatment that was recommended.
Food insecurity is rampant across Sindh, which has particularly worsened following two years of floods. Like many families, Achar and his son purchased food from local shopkeepers on credit in order to survive following this year's flood. Achar estimates that his outstanding loan is equivalent to 4,000 rupees (USD 45). He further estimates that the cost to repair his home is around 30,000 rupees (USD 337).
"We need a house to live in and we need food to survive." However, he frankly added, "But, we have no money to rebuild our home."
More than six months since the humanitarian community was called upon to help flood-affected families and more than seven months since the rains began, Achar and his son's situation is unique and yet so similar to thousands of families across Sindh. The widely spoken of transition between emergency and recovery means little for those in the vast remoteness of flood-affected Sindh. The reality in Haji Gulzar Quraeshi Village of Mirpurkhas District and everywhere else like it consists of finding ways to keep on living despite the inability or the lack of resources to change the conditions.
As his discussion ended with Shahid, Achar lowered his head, a Sindh cultural practice for showing gratitude. Speaking of the shelter kit and nonfood items (NFIs) he was there to receive from CWS-P/A, Achar shared that since he had returned to his village, he had received no other assistance. His last words were, "God will reward you in his ways." CWS-P/A was able to meet Achar's immediate need for shelter and NFIs, but, this man, his son, and thousands of families still require additional assistance in order to meet food security, long-term shelter, and livelihood needs.