A Family Tries its Best to Recover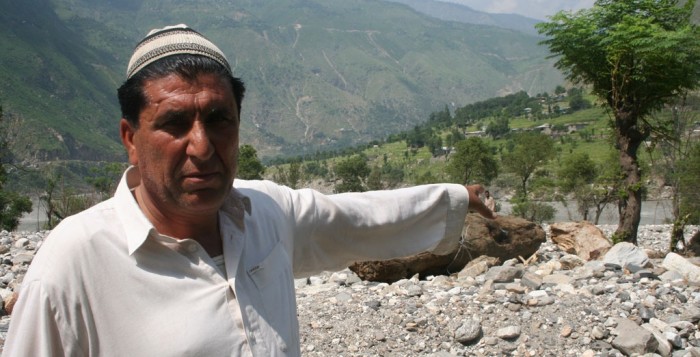 JARNAY VILLAGE-SHANGLA DISTRICT, Pakistan – How does a family regain its footing after it loses everything?
As flood waters recede, that is a question being asked millions of times over as Pakistanis begin the painful steps of reclaiming their lives following a month of grim disruption, loss, and trauma.
One of the families, who received a food package from CWS-P/A, lives in the village of Jarnay, in the northern district of Shangla. The challenges facing Said Qamar, 48, and his wife, Pareena Bibi, 35, and their large family are considerable, as they and other family members recounted recently.
Said Qamar recalled that the thunder, torrential water and rains, and resulting landslide of July 27 came with little warning. There was, though, just enough time to evacuate the family to higher ground, about a kilometer away. That was not easy: Qamar and Pareena Bibi are raising 12 children, including eight of their own offspring, as well as nieces and nephews.
When he returned to the homestead and small plot of land in a riverbed area that had been in his family for a century, Qamar saw his property – a small plantation that had borne bananas, guavas, melons, apricots and peaches, potatoes and chilies — laid waste, covered with rocks and boulders.
Though a few trees are still left standing, Qamar's livelihood is now essentially gone. He is contemplating a move either to one of Pakistan's urban areas, or, if there is a way to salvage the farm, perhaps nearby to begin anew —  though living in a safer place, away from a river.
Qamar acknowledges neither move will be easy and said he, the family and other villages are traumatized. "When it rains now, we're afraid of what could happen. Could this happen again?"
Those are not the only concerns facing the family. "We owned as many as 120 trees and earned our income through the sale of these fruits. I cannot say much about the devastation because it saddens me to talk about it and my youngest daughter has bad skin disease after the floods," said Pareena Bibi.
She brought forth her son Asad Ullah, 19, who shared, "I never did work outside home but helped in the plantation; now, I work outside by doing any work I get. Usually, I help at a nearby village garden that pays me Rs. 200 per day (US$ 2.4). This is not a regular income because it depends on how well the day goes."
Asad Ullah's elder brothers also work to make ends meet because the money is not enough. "We pay Rs. 8,000 per month (US$ 94) as rent and we have more expenses after the floods," said Asad Ullah. "This is because we buy fruits and vegetables which we first had readily available to us."
As she sat beside her son, Pareena Bibi added, "I lost my kitchen utensils and we could not save much in such a short time. The floods have taken away our beds, clothes, house, and land. There is no stable family income anymore and this is our main worry."
The family is thankful for a food package Church World Service-Pakistan/Afghanistan provided, though the size of the family has meant that the food—including wheat flour, sugar, cooking oil, and tea—was quickly used.
"This is a very difficult Ramadan," Qamar said of the Muslim holy month. "And what can we do for Eid? There are no clothes for the children, no gifts for the children."
He said other villagers each have their own troubles, but Qamar retains certain optimism, saying, "God is still looking after us."