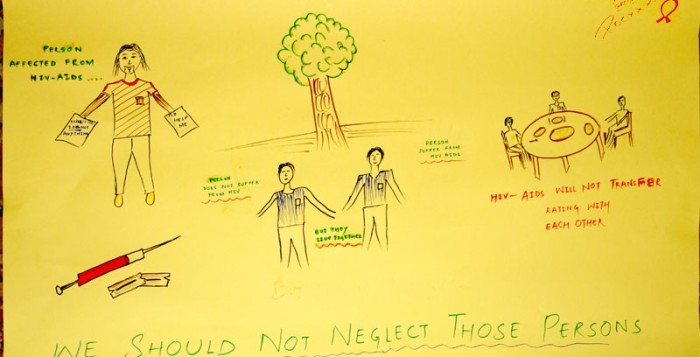 The first World AIDS Day was celebrated on December 1, 1988. The World AIDS Day is about raising money, increasing awareness, fighting prejudice, and improving education. World AIDS Day is important for reminding people that HIV has not gone away and that there are many things still to be done.
"Getting to Zero" is this year's World AIDS Day theme—zero new HIV infections, zero discrimination, and zero AIDS related deaths.
Today, half of the world's population is under the age of twenty-five. This includes the largest-ever generation of adolescents who are or will soon be of reproductive age and ready to soon establish their own families. At the same time, millions of young people are faced with the prospects of early marriage and early childbearing, incomplete education, and threat of HIV & AIDS. Teaching young people how to stay healthy is one of the best investments that can be made. Young people themselves need to become key actors in their own development, and their voices have to be brought up to a higher political level. Thus, it only makes logical sense to concentrate and focus more effective strategies on youth if we are to achieve this year's theme in the fight against HIV.
KEY DATA
Globally, an estimated 4.9 million of the 33.4 million living with HIV are young people aged 15-24 years. 61% live in sub-Saharan Africa, of which 76% are female.
Everyday, an estimated 2,500 youth become newly infected with HIV, resulting in about 910,000 new infections each year.
Of the 2.7 million new HIV infections in 2008, about 40% were among 15-24 year-olds, down from 45% in previous years.
A typical HIV prevention program reaching a young person costs US$9 per year.
Source: Outlook 2010: AIDS Epidemic Update 2009, UNAIDS, 2010
Too often it is seen that decisions and strategies are taken at high policy levels concerning youth with little or almost no involvement or participation from their side. When policies are developed without considering the youth perspective, the young generation is less likely to agree with them. Thus, there is no ownership from the youth to implement or agree with the policies laid out for them. Youth also then become discouraged that they have not been listened to, and this adds to their frustration.
Most young people do not have access to sexual health advice, condoms and other forms of contraception, or voluntary counseling and testing services for HIV and other sexually transmitted infections (STIs). Reproductive health services are seldom geared toward the needs of young people, who therefore tend to avoid them—putting themselves and their sexual partners at risk of HIV infection.[1]
In South Asia over 700,000 young people are HIV infected, second only in volume to sub-Saharan Africa. HIV prevalence is highest in South-East Asia, with wide variation in epidemic trends between different countries—Myanmar, Thailand, and Cambodia show declines in prevalence, but the epidemic is growing at a particularly high rate in Indonesia and Vietnam. [2]
Pakistani youth, just like other young people in the rest of the world, are also vulnerable to HIV infection. This is mainly because adolescence is a time when young people may be curious about sex and drugs and are heavily influenced by their peers and the media information available to them. Moreover, other contributing factors like unemployment, easy availability of narcotic drugs, and economic frustration can all influence young people to engage in unsafe behavior, which may put them at increased risk of HIV infection. A lack of information and awareness about reproductive health in general, HIV & AIDS, and other STIs makes young people particularly vulnerable. Social taboos related to sexuality and the conservative cultural norms inhibit the open discussion of issues related to sex and reproductive health. Similarly, opportunities to gain accurate information about such issues and to learn skills with which to protect oneself from infection are often quite limited for the vast majority of youth.
To be able to address these issues, a special emphasis should be given to incorporating life skills-based education programs by the government in all schools. There is also a dire need to make youth friendly services available across the country. Youth are at an impressionable age and it easy to guide them to make accurate and informed choices about their health and future. However, all this can only be achieved when there is an honest and meaningful commitment by the Government of Pakistan to allocate resources to HIV awareness programs and facilities for youth.
---
[1] UNAIDS. HIV/AIDS and Young People: Hope for Tomorrow. UNAIDS. 2003. Accessed from http://data.unaids.org/publications/IRC-pub06/jc785-youngpeople_en.pdf on October 27, 2008.
[2] Joint United Nations Programme on HIV/AIDS (UNAIDS). 2007 AIDS Epidemic Update. Geneva, Switzerland: UNAIDS, 2007.