World AIDS Day: Creativity Key for HIV Work in Pakistan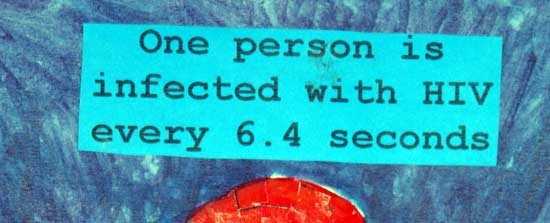 Pakistani youth create their own HIV prevention posters through awareness sessions lead by Church World Service – Pakistan/Afghanistan.
For vulnerable Pakistanis, the lack of access to basic information on HIV is almost an epidemic in itself, one that spreads by misinformation and feeds on the vulnerabilities of poverty, increased insecurity, a bias against women's rights and the taboo of discussing sexual health publicly.
Whether working on poster competitions with youth or promoting HIV awareness amongst religious leaders, the creation of opportunities for open discussion on sexual health and HIV has been no easy task for Hashwani.
"We have had to get creative," she said.
Social stigmas are layered deeper than a simple fear of the disease. Only 2 in 5 Pakistani women are literate, which means the best advocacy efforts are usually person-to-person and verbal. Because of the male-dominated culture many women cannot negotiate the use of protection during intercourse.
In response to the challenges, CWS-P/A employs a two-pronged approach: pushing for awareness among as many people as possible to promote more open discussion about HIV issues, and helping people gain access to testing and treatment.
"In addition to raising awareness with communities, we also work to train persons where we can have a multiplier effect: health practitioners, aid workers and religious leaders," Hashwani said.
She notes that some of the most successful interventions have been directly with communities, where awareness sessions are held regularly and separated for men and women to allow for more open discussions. The sessions not only provide an opportunity to learn more about HIV, but also for participants to ask questions.
"This opportunity for honest discussion is quite rare in the Pakistani context, because topics of sexuality and reproductive health are considered so highly taboo," Hashwani said.
These sessions work to combat the significant stigma against people living with HIV, because people too often assume that the only method of contraction is careless sexual practices. Even worse, a commonly-held belief is that HIV is a punishment from God. Hashwani said these are some of the myths that CWS-P/A works to address so that stigma can be tackled.
An August 2008 report by the World Bank noted that the highest rate of infection in Pakistan was amongst injecting drug users, due to the sharing of infected needles. The report highlighted the risk of the virus crossing over to other vulnerable groups, which could lead to a much larger nationwide crisis.
With a relatively low HIV rate of 0.1% in adults, the World Bank said that Pakistan still has a window of opportunity to act decisively to prevent HIV from becoming a widespread epidemic.
"It is imperative that concrete preventative measures are taken before Pakistan has a massive explosion of HIV cases," CWS P/A deputy director Shama Mall said.
In addition to targeting prevention messages for adults, CWS-P/A also has designed HIV awareness programs for youth. The sessions create an opportunity for participation and are coupled with poster competitions. Through the posters, youth are able to express their own thoughts and views on HIV and AIDS.
"It is critical that we find these kinds of new and creative means for youth to talk about HIV in their own ways," Mall said.
Yet, the recent massive displacements of people from Pakistani military campaigns in Swat and Waziristan – and the ongoing security challenges across Pakistan – make providing information and care even more difficult for youth and adults.