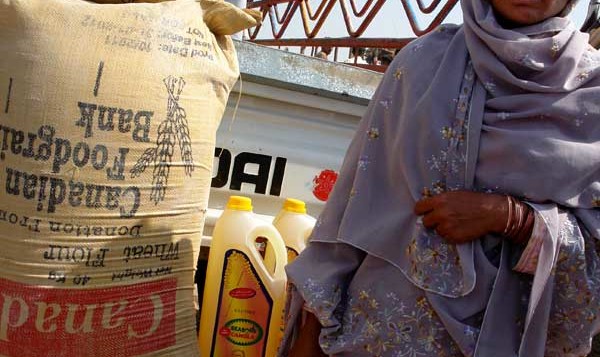 Two women with very different circumstances face the challenges of poverty and loss of what little they had during the 2011 rains in Sindh without their husbands. Sattu, a seventy year old widow, lives with her only daughter in a village called Vehoko. Shahida, a twenty-eight year old mother of three children, resides in Sadiqa Ram Village where she struggles to cope with her husband's unexplained disappearance six years ago. The absence of their husbands makes these two women, the elder nearly three times the age of the younger, feel the challenges of living in the poverty-stricken, rural Sindh district of Umerkot more than women who have a little security and support from having husbands to help bear the burdens. If life was not hard enough for these women, the rains and flooding that affected their villages in 2011 damaged their homes and took away their few belongings.
As Sattu described her loss from the flood, the tragedy behind her personal story surfaced. "My daughter and I lost everything in the flood." When asked more about the condition of her house, she continued, "We had two rooms (non-concrete) which completely fell down during the flood. Due to rain, I slipped in the muddy water and got bad pain in my legs. I can't walk freely and now am using crutches. When the flood water entered, we left our house, along with other villagers, and took shelter in a high place on the road. We stayed on the road for about a month and a half." After facing great difficulty surviving on the road, Sattu returned to where her home stood to find all her household belongings washed away or destroyed by the floodwater.
Shahida, before describing her recent losses, first told the story of her missing husband and her efforts to find him. "It's about six years that there is no trace of my husband. He was working in the army. The army authorities do not know his whereabouts." She began to cry as she told that she searched in many places for her husband, Amin, but to no avail. No one had any idea of where he could be. In Amin's absence, his elder brother who makes a living as a shopkeeper supports Shahida and her children as much as he can for which she is grateful. She finds strength by holding on to the hope that Amin will one day return.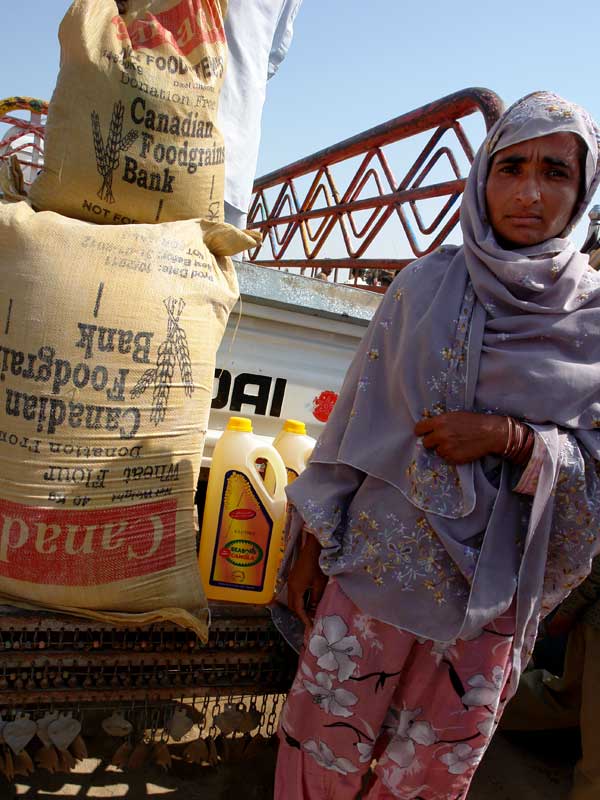 Shahida.
Photo by CWS-P/A Staff
When asked about the floods, Shahida described, "This flood has partly damaged our home and our rooms need repair. The walls and roof are partially damaged. We have no money to carry out the repair work, and we are afraid very much that slowly and slowly our house will fall down and we may have an accident." Without another option, Shahida and her children continue to live in the damaged house.
Without resources, Sattu and Shahida face a future of uncertainty. Without a safe home in which to live, they are now more vulnerable to risks of health, food insecurity, and personal safety. Church World Service-Pakistan/Afghanistan was able to address their food needs after both qualified for food relief. The CWS-P/A food packages, which were made possible with support from Canadian Foodgrains Bank through Presbyterian World Service and Development, adhere to Sphere standards and will provide their families sufficient calorie intake, fats, and proteins for two months. Sattu and Shahida each took a food package home yesterday and will receive a second package after one month.
Sattu thanked CWS-P/A, "My daughter's husband is a day laborer, but these days he hardly finds work. Your help is great at the moment because we have no food to eat." She still requires medical attention for her legs which are in a very bad condition. She requested for assistance to have a room in which to live and a little money to buy proper crutches so she can walk.
Shahida's gratitude matched that of Sattu. It was not the first time CWS-P/A assisted her; she is also a participant in CWS-P/A's food security project in Umerkot. "Due to floods, my husband's elder brother's family is equally suffering, and they also lack food for their family." Her only request is for assistance in building a home to keep her and her children safe.
CWS-P/A recognizes the great losses not just for Sattu and Shahida but also for many individuals who have yet to receive any assistance. The organization plans to assist families in Umerkot and other affected districts with food packages, nonfood items such as kitchen sets and hygiene kits, and healthcare through mobile health units. CWS-P/A commits to helping disaster-affected families with emergency relief and goes to great lengths to provide assistance in the most accountable way so that individuals' dignity is preserved and quality relief goods and services reach the most vulnerable. Unfortunately, many other women and vulnerable individuals will not receive this assistance until more support comes from the international community.
Despite the time which has passed since appeals were first sent to the international community to assist the affected families in Sindh, a difference can still be made for families struggling to survive. The families requiring assistance were for the most part already vulnerable, facing food insecurity, and living in poverty before the 2011 monsoon season worsened their plight. As time passes, their needs are not going away but rather multiplying in ways that will make survival and longer term recovery more difficult.