When Gullali had lost all hope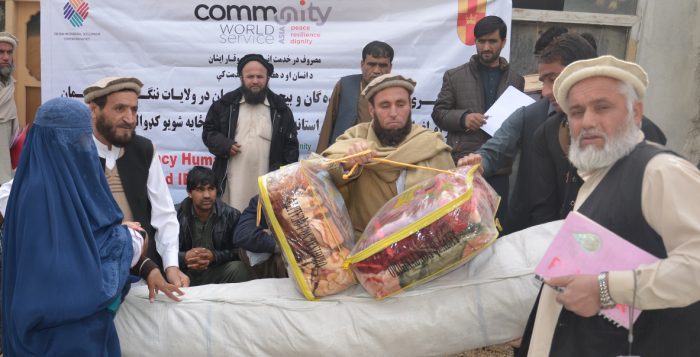 Blood feuds handed down through generations are very common in parts of Afghanistan, and revenge is regarded as a necessary redress of the many wrongs of the past no matter what the present circumstances. Many are left to fend for themselves regardless of their role in such legendary feuds. Gullali, mother of five children, was a victim of one such incident that changed her life dramatically.
Living a happy and content life with her husband, an experienced mason, her four sons and a daughter in Pashaiee Village, Mehterlam, Gullali and her family were blessed with all the comforts of a basic life;  adequate food, healthcare, education, clothing and other household needs. A tragic turning point in the life of Gullali came when her husband was killed in October (2016) by an unknown assailant in front of their own home. Gullali was left alone and in a state of worry and fear for the lives of her children and herself.  She was therefore forced to leave everything behind and move to Samtado Village, Mehterlam, where her parents lived.
In Samtado, Gullali's living conditions deteriorated from what they were at her lovely home. Gullali and her children temporarily lived within an old, mud built room at her parent's house. She had very little family support as her parents did not earn very well and she was unable to bare the daily expenses of her five children. Some of their fellow villagers, helped Gullali on and off financially while most other time she earned a meagre income through cleaning the houses of their neighbours in the village.
The Directorate of Returnees and Refugees Office in Afghanistan knew of Gullali and her poor state of affairs through their assessments and introduced her to Community World Service Asia. As Community World Service Asia had recently launched a project with the support of Swedish International Development Cooperation Agency (SIDA) and Church of Sweden (CoS), to respond to the needs of Afghan returnees and internally displaced people (IDPs), the team was happy to support her through the project.
The team assessed Gullali's living conditions and was soon provided with assistance and support as she was going through a very hard time. Gullali was initially provided an emergency shelter (tent) for her children and her to live in safely as her temporary residence, due to its weak structure, could possibly collapse any day. Gullali was very pleased to move in the tent as she was also provided with additional facilities that would keep her children warm in the coming, freezing winter. The family was also able to access to the health facilities set up by Community World Service Asia for all returning refugees and internally displaced persons (IDPs) living in the emergency shelters. Gullali's children are also attending school in makeshift schools near their present home and are living a comparatively comfortable life.
This project is successfully being implemented running in the Laghman and Nangarhar provinces of Afghanistan under which basic health facilities are also provided to families residing in the emergency shelters.