The Pakistan Election Compendium (1970 – 2008)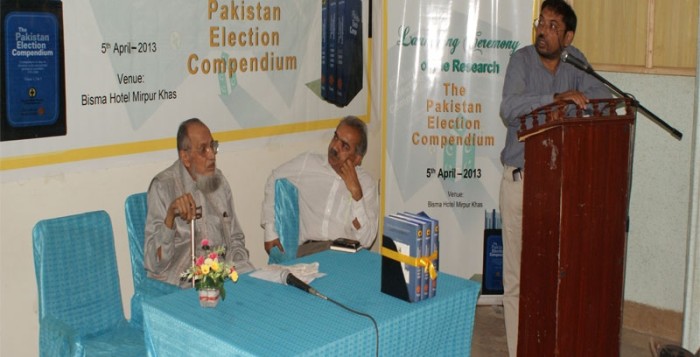 In April, The Pakistan Election Compendium, a compilation of national and provincial electoral information was launched in seven cities in Pakistan. The compendium is a joint venture between CWS-P/A and Punjab Log Sujag which comprises of three volumes. Volume one contains electoral history from 1970 to 1985, while volume two contains electoral history from 1988 to 1997 and volume three from 2002 to 2008.
At one of the launching ceremonies held in Pakistan renowned researcher, scholar, and human rights activist, Mr. Nasr Ullah Jan, shared that the compendium is a serious effort by CWS-P/A and should be used as a reference document by academia, journalists and students of political science. He added that further researches could be done to figure out various patterns in the general elections of Pakistan. A similar opinion was shared by Mr. Khadim Hussain, columnist and Director of Bacha Kahn Institute. He added that the compendium must be appreciated by utilizing the information in writings and dialogues.
The compilation also comprises of election commissions, electoral rolls, delimitation qualification of candidates campaigns code of conduct, and party symbols among other valuable information. It aims to provide key stakeholders valuable information to make a real difference in free, fair, and credible elections.
CWS-P/A continues to promote the progress of democracy in Pakistan and has conducted and published other elections related research. These include National Assembly Elections in Pakistan (1970-2008) and Religious Minorities in Pakistan's Elections.