The National Lobbying Delegation meet, a step in the right direction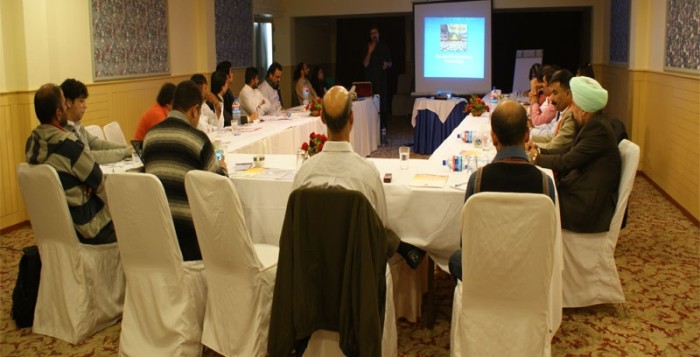 A two-day consultative meeting for the National Lobbying Delegation (NLD), a group of prominent non-Muslim community leaders working to promote non-Muslim rights within Pakistan, took place from November 26-27, 2013. The key agenda points of the meeting were to provide comprehensive information on parliamentary procedures to the NLD, prepare the members for inviting non-Muslim parliamentarians to form a caucus for further advocacy with the media and within the parliament, and prepare the NLD's agenda points for the next 18 months.
The newly initiated project, Improving Parliamentary Representation of Minority Communities, aims to support non-Muslim parliamentarians to effectively perform their roles in the Houses. This will encourage, minority communities to become actively engaged in the democratic process and to have a voice in a bid to claim the basic human rights to which all are entitled. The project will also work to connect non-Muslim Members of Parliament (MPs) to the media to raise awareness about issues they face and promote a positive and inclusive image of a united Pakistan. The NLD will work as key facilitators in reaching the project goals.
Over the course of the two days the NLD members received training on parliamentary procedures and were provided a forum to openly discuss the key issues facing their communities. The training was provided by CWS-P/A's valued partner the Free and Fair Elections Network (FAFEN). This training allowed all NLD members to have a united view about the purpose and functions of Pakistan's parliamentary system. Furthermore, the NLD members were able to discuss pertinent issues faced by minority communities. A clear action plan on how to best lobby for these issues within the parliament and media was formulated during the meeting.
"During this two day activity we have analyzed everything in detail; we have studied the issues, and analyzed the root causes," said Haroon Sarab Dayal, an NLD member working in Pakistan's Federal region. "Our plan is to build a wide and strong network so that we can take the issues to parliament and world forums," he continued. The role of the media is very crucial, and our stability is dependent upon them. The plan is not to change the system, just to introduce new things which are beneficial for Pakistan," relayed Dayal.
A lot of enthusiasm, and motivation for the project was seen during the training. "We have spent our lives serving people. We are fully prepared to work to reach the goal of this project," said Dayal. As the NLD members go back to their respective communities they will begin the necessary work to build an effective parliamentary caucus to deal with the key issues faced by non-Muslim communities in Pakistan.