Supporting Returnees resettle in their homeland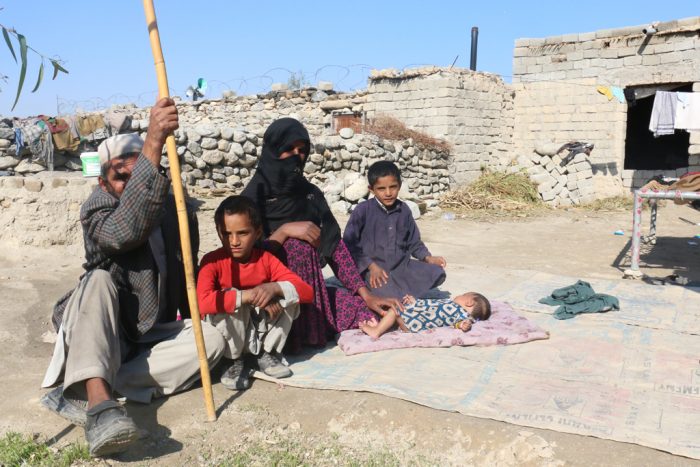 Last year after an unfortunate encounter in Pakistan, Jumadin, living a life of a refugee for 30 years, sold all his belongings and returned with his family to Afghanistan. Jumadin, a disabled man, begged for money on the streets and well-off neighborhoods of Peshawar in Pakistan as a means of earning for his family. One day, however, after collecting his daily money on the streets, he got into a dispute with the local authorities and was taken into custody.
Following the incident, Jumadin with his parents, wife and six children, fled Pakistan and crossed the border to settle back in his country. The family migrated to the village of Murkondy, Mehterlam in the Laghman Province of Afghanistan. They started living in an extremely old, terribly conditioned two-room house. Even back in Afghanistan, Jumadin continued to beg for money in order to support his family, and also asked wealthier families for charity in the form of food and clothes.
Six months ago however, Jumadin's life took a positive turn as he was selected as a recipient of cash and food supplies under Community World Service Asia's Emergency Response to Afghan Refugees and IDPs project. An elderly villager had submitted Jumadin's name for selection under the project after which the project team surveyed the destitute family's living conditions and needs. Looking at the results, they immediately selected him as a recipient. Consequently, Jumadin received cash amounting to AFN 13,000 (Approx. 189 USD) for two months.
Jumadin spent some of this money on purchasing basic food supplies for his family, and saved AFN 9,000 (Approx. 130 USD) to begin a small family-run business of his own so that he could provide a sustainable income for his family. Jumadin's wife cooks salty peas every night, and his fourteen-year-old son then sells them in the village market the next day, generating about AFN 400 a day (Appox. 6 USD). Jumadin's sixteen-year-old son now works as a conductor in a private car service, earning a a daily wage of AFN 300 (Appox. 5 USD). With these improving family income conditions, Jumadin no longer resorts to begging and instead stays home to support his family.
It was with the help of Community World Service Asia that we started the small business. As a result, I am now a happier person and no longer suffer from exhaustion, poverty, and poor living conditions,
shared a thankful Jumadin.
As he was sharing his story, Jumadin prayed for Community World Service Asia to continue this kind of assistance, for disabled people especially, so that they can live peaceful lives and support their families.