Students Explore Rights and Gender in Afghanistan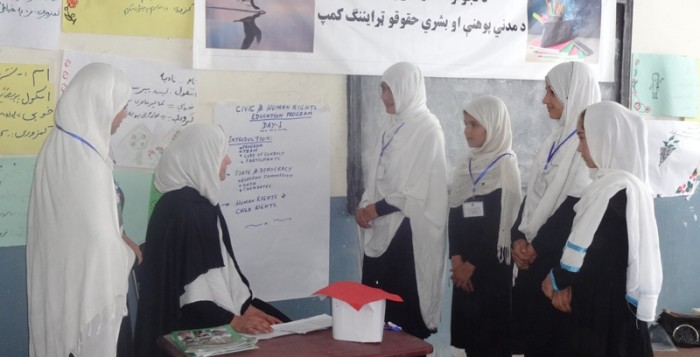 "I really like attending summer camps. It is very interactive and good learning for us. The best thing I like is taking part in role plays and group work because this teaches us the importance of team work," shared Sakina, a student.
In October, Church World Service-Pakistan/Afghanistan organized a three-day camp for fifty girls and ten female teachers at a school located in Surkhroad District, Nangarhar Province. To improve the quality of school curriculum in Afghanistan, this camp aims to raise awareness and build capacity of students and teachers on handling key social, political, cultural, and human rights issues. Through a participatory approach, participants were encouraged to express their thoughts and talent during group discussions, art work, speeches, and role plays.
"It was a very good exposure for me to learn about child rights and human rights, especially to understand why these rights were established," shared Sadia, a student.
A first-time activity for the majority of students, the camp was an eye-opener on issues of universal human rights and child rights. Noticeable changes in confidence and thoughts about gender roles in society were observed. Abdul Aziz Omar, representing Nangarhar Education Directorate, appreciated the participants' enthusiasm and CWS-P/A's efforts.
While addressing the group he said, "You have missed three days of school, but you had an opportunity to learn about very important topics such as gender, child and human rights, and election process. This encourages you to practice your rights as a citizen. I request teachers to replicate these activities and learnings with other students to create awareness. We are very thankful and supportive to CWS-P/A for conducting this summer camp and all the work they are doing for improving education standards."
Girls' Education Project in Afghanistan is funded by Presbyterian World Service & Development and Act for Peace.