Strengthening the Messages of Quality and Accountability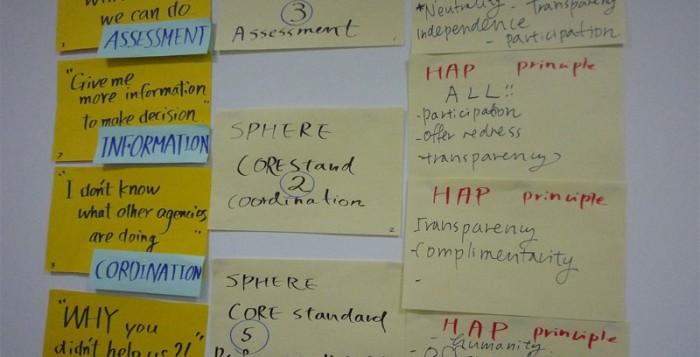 With the collaboration of Church World Service-Asia/Pacific (CWS-A/P), Sphere Project, International Council of Voluntary Agency (ICVA), and support from Church World Service-Pakistan/Afghanistan (CWS-P/A), a series of quality and accountability (Q&A) initiatives were held in Japan. With a total of 138 participants these initiatives included a one day orientation and a half day symposium on quality and accountability. This was followed by a five day training of trainers (ToT) and a one day orientation on quality and accountability in Tokyo and Sendai.
While the training and orientation were tailor-made to suit the Japan context, the participants were able to reflect on their own experience as well as the experiences shared by others and were further able to link it with quality and accountability for future reference. The trainers noted that holding an orientation was also necessary before proceeding with the five day ToT as participants lacked prior knowledge of standards and Q&A initiatives. Trainers shared that participants were interested to know if both HAP and Sphere applied only during emergencies and some participants demonstrated an interest to participate in a more comprehensive training including monitoring and evaluation.
Furthermore for Japan, the twenty-one ToT participants are the first recognized trainers for both Sphere and Humanitarian Accountability Partnership (HAP) Standards. All participants have committed to conducting training on various components on quality and accountability within their own organizations and for others. CWS-A/P assured the new trainers of follow-up support and encouraged them to pursue mainstreaming these Standards into their work and organizations. Demonstrating its commitment to quality and accountability, CWS-A/P will support future trainings or components by providing all required resources, in the form of the hardcopies of the Standards as well as more follow-up support and information.
During the trainings the Japanese version of HAP 2010 Standard and Japanese draft version of Sphere Handbook 2011 were used; these translated versions were initiated by CWS-A/P and their incorporation provided an opportunity to review the overall effectiveness of the texts. The trainers shared that it was an excellent idea to involve Sphere secretariat and ICVA in these initiatives as it provided a platform to promote and reinforce the importance of coordination and collaboration. Through the event a Quality and Accountability Working Group was established and all ToT graduates were encouraged to join the group to further promote Q&A initiatives in the country.
The Q&A orientation and symposium were organized by the Ministry of Foreign Affairs (MoFA) and supported by CWS-A/P, Oxfam Japan, Japan NGO Center for International Cooperation (JANIC), Peace Boat Disaster Relief Volunteer Center (PBV) and Wesley Foundation. Additionally, the Q&A ToT and orientations were organized by CWS-A/P and JANIC, and supported by Japan Association for Refugees (JAR), Oxfam Japan, PBV, Wesley Foundation and FASID. The organizers noted that the direct and indirect involvement and contribution of different stakeholders including Minsitry of Foreign Affairs, INGOs, NPOs, and network bodies in Japan is a testimony of the commitment and interest in promoting Q&A. Moreover the trainers shared that network bodies such as JANIC, JAR, and Japan Platform are more sensitized on the need and value of Q&A and the commitment to further promote it in Japan will be continued by these agencies.
To continue to enhance quality and accountability, funding has been allocated by CWS Japan for follow-up activities. This initiative is an important milestone for Q&A in disaster response in Japan and for both international Standards. It has laid a stronger Q&A foundation in Japan and generated commitment especially from the humanitarian sector. CWS-P/A as the Sphere regional partner for Asia, the Sphere focal point for Pakistan, and the pilot organization for HAP's accreditation scheme in Asia remains committed to offer its Q&A services to continue capacity building efforts in Japan.
Words from the participants:
I learned about the importance of using guidelines in carrying out humanitarian aid work.
I learned about the importance of using terminologies such as human rights, which most Japanese are not familiar with.
With the HAP and Sphere standards, it will be easier for me to make particular suggestions, which were often refrained before due to my position held in the organization.
Things I want to learn more is how to reflect the good / bad practices of coordination and cooperation on future activities.
Things I want to learn more is the methodologies to disseminate the HAP and Sphere standards into an organization.